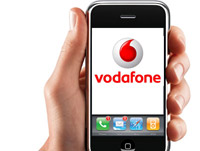 UK consumers still desperate to join the iBorg and get themselves an iPhone, will be able to snap one up onVodafone's network in the new year.
Available from January 14th, prices start at £30/ month for a hefty 24 month contract, with the handset costing an additional £59 (iPhone 3G 8GB) up to £239 (3GS 32GB).
A free 3G iPhone 8GB handset can be yours if you commit to a £35/month contract over 24 months (setting you back a total of £840 over the two years).
To get your hands on a 16GB iPhone 3GS for nowt, you'll have to sign up to a 24-month, £45-per-month deal (£1,080 total) or an 18-month, £50-per-month deal (£900).
Modem
Power users may be miffed to find their monthly 3G data usage being capped at a stingy 1GB a month. There's unlimited WiFi on offer and, more interestingly, the option to use the iPhone as a modem.
Vodafone aren't doing it for the love though, and will be stinging punters a fiver for each 500MB downloaded, so it'll be easy to rack up a hefty bill if you're watching videos on your laptop or downloading beefy files.
Guy Laurence, chief executive of Vodafone UK told the BBC that his company had been preparing its network for over a year to handle the introduction of the iPhone.
We will offer an outstanding iPhone experience wherever our customers live, work and travel, delivering speed and reliability – something our customers have told us they really value.
Let's hope they make a better job of it than O2 who have singularly unimpressed us with their south London coverage.