We've always been rather keen on the Wacom Intuos range of graphic tablets, so our joy ascended to new levels when the company updated their range with a shiny new "Intuos4 Wireless" tablet.

As its name suggests, the new tablet kisses goodbye to boring old cables, adding a wireless capability which lets perambulating artists sketch'n'wander up to 10 metres from their computers.
Available only in the medium-size (8 x 5-inch) version, the Intuos4 Wireless runs off a replaceable lithium ion battery that charges via the USB connection and promises 18 hours of battery life.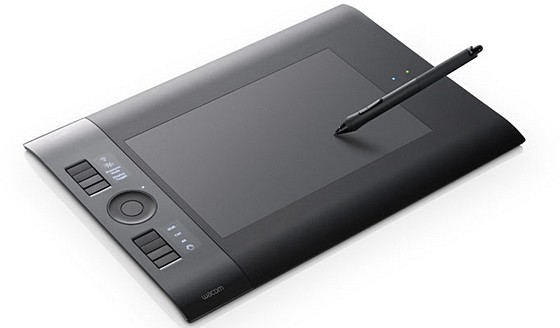 The tablet is hooked up to your PC or Mac via Bluetooth, but – annoyingly – it doesn't come with a bundled dongle, so if your system doesn't come with Bluetooth you'll need to shell out for an adapter.
To save power, the Wireless tablet has two tiny wee lights on one side: yellow/green to indicate charging and battery state and blue to indicate connected state, and it will automatically snooze off after 30 minutes of disuse.
Like all Wacom Intuos tablets, pricing is decidedly upmarket, with the tablet expected to retail for around £360 when it goes on sale in March, making it too pricey for the likes of us – so we'll stick to our ancient version one tablet.
Features:
Active Area 8.0″ x 5.0″
(203.2mm x 127mm)
Physical Size 14.3″ x 10.0″ x 0.6″
(363mm x 253mm x 15 mm)
Weight 2.2 lb with battery (1.0kg)
Pressure Levels 2048
Advanced Pen Tip Sensor Yes
ExpressKeys 8
Finger-Sensitive Input User-defined Touch Ring controls up to four functions
Tilt Sensitivity ±60 Degrees
Display Toggle Yes
Application-Specific Settings Yes
Connection Bluetooth, USB for charging
Compatibility Mac and PC
Mouse Included No
Color Black
Warranty 2-year in USA and Canada
1-year in Latin America
[Wacom]
[Via]