Esteemed graphics tablet manufacturer Wacom has launched the Bamboo Stylus pocket, a rather neat little stylus designed for use with smartphones, iPads and Android tablets.

Looking like a fat fountain pen wearing a body warmer, the pen measures up at a compact 9.3 cm, although a quick pull on the top extends the pen out into a more traditional shape.
The stylus comes with a headphone jack plug on its cap so you can attach the pen directly to the tablet or smartphone (although you're buggered if you want to plug in your headphones).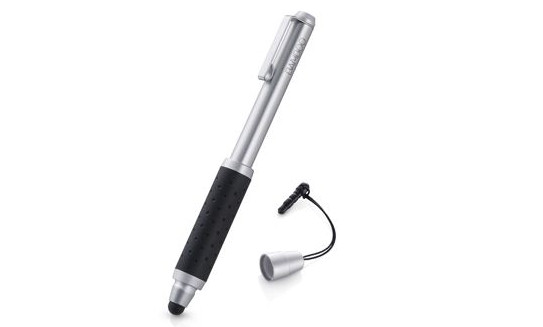 In use, the stylus mimics the actions of your fingers onscreen, although offering more accuracy, particularly if you've got fingers like sausage rolls.
The Bamboo Stylus pocket is available now priced at £29.
Features:
Benefits:

Fits in any pocket
Extends in length for comfortable use
Sophisticated black and silver design with satin-textured metal body
Choice of red and blue coloured rings for individual style
Connector attaches cap to standard headphone jack
25 % slimmer rubber tip than other solutions on the market (6 mm vs. 8 mm)
Weight-balanced design

Pen dimensions: 12 mm diameter and 89 mm length (118 mm extended)
Pen weight: 16.4 g
Rubber nib: exchangeable responsive smooth pen tip for
Here's Wacom's Press Release
The new Bamboo Stylus pocket: Whenever inspiration strikes

Wacom unveils the Bamboo Stylus pocket – the ultimate pal for mobile communication

Wacom today launches Bamboo Stylus pocket – a new, compact stylus for use with smartphones, iPad and Android tablets on the go. The extendable stylus fits easily into any pocket or accessory case, while being big on functionality. Perfect for flicking through emails, taking handwritten notes, or capturing ideas whenever inspiration strikes: The Bamboo Stylus pocket is the essential mobile mate.

Gadgets such as media tablets and smartphones have become every day companions, supporting our need to be constantly available and connected. Bamboo Stylus pocket by Wacom is the perfect tool to aid this contemporary lifestyle, allowing users to digitally write, doodle or navigate more easily on their touch screen devices.

With the Bamboo Stylus pocket, so much more can be done on a touch screen. Compared to a user's fingers, a stylus is more precise, accurate and comfortable when editing pictures, drawing maps and creating dynamic presentations, even on small keyboards and buttons.

Pocketable but comfortable in use, the Bamboo Stylus pocket allows users to be flexible and spontaneous with smartphones or tablets on the go. Measuring a convenient pocket size of just 9.3 cm, the ergonomic stylus is expandable to a more traditional size.

Combining an elegant, fancy silver design with quality synonymous with all Wacom products, the stylus comes with a headphone jack plug on its cap. This means that tedious searching is now longer necessary: Directly attached to the tablet or smartphone, the stylus can´t get lost anymore and is always ready to hand when inspiration strikes.

Individualise the Bamboo Stylus pocket
The Bamboo Stylus pocket uses a best-in-class responsive pen tip for on-screen usage. Consumers are able to choose between a soft or firm nib dependent on the individual needs. The soft ones are for those wanting to apply less pressure, whereas the firm nib enables stronger pressure while doodling or writing. The Bamboo Stylus pocket also comes with three exchangeable colour rings allowing for the individual to personalise the tool.

Bamboo Paper App
Bamboo Stylus pocket perfectly connects with Bamboo Paper, an app for personal expression, whether for business, school or home use. The digital notebook for the iPad is perfect for a quick note, illustrating a presentation, displaying favourite family photographs or livening up a recipe. Now users can add images and photographs to notes, too. Those images can be annotated or moved around the screen to help illustrate any notes or doodles already on the page. Photographs can even be taken on the iPad and incorporated directly into the app, ensuring that pages really come alive.

Bamboo Stylus Family
The Bamboo Stylus pocket is the latest addition to the Wacom Stylus family. It joins the multi purpose Bamboo Stylus duo – a rubber nib and a ball-point ink pen in one – and the colourful Bamboo Stylus solo range – a rubber nib pen for media tablets in a choice of colours: blue, green, pink, orange, black and white. With any member of the Stylus family, users can visualise their thoughts in personal and business life, offering the user an intuitive and natural experience while using a touchscreen.

Features and Benefits of Bamboo Stylus pocket
* Smooth soft conductive rubber tip
o Thin pen tip diameter 6mm
* Bamboo Stylus cap with strap and headphone jack plug, so it can't get lost
* Colour material finish
o High-value aluminum crafted
o Shiny finish
o Comfort soft grip
o Exchangeable colour rings (silver, blue, red) for individual look
* Replaceable standardised stylus nib- compatible with all Bamboo Styluses
o Standard with firm nib
o Optional soft nib (included in the box)

Availability and pricing
Launching at Photokina in September 2012, Bamboo Stylus pocket is available now priced at £29.00 including VAT.

Information about the Bamboo Stylus family can be found at http://www.wacom.eu/bamboo.