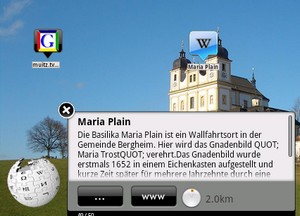 Wikitude, one of the earliest augmented reality apps to hit the Android apps, has now been upgraded to version 4.
The latest update adds new geo-location information-services (aka "overlays"), like Youtube, Google Local Search, Twitter, Booking.com or Panoramio, with makers Mobilizy insisting that the improved interface and search feature makes it, "the ultimate augmented reality browser for any type of user e.g. travelers, tourists, hikers, city-people, etc."
Much like the Layar app – which is currently available on both Android and iPhone platforms – Wikitude 4 serves up user-selectable layers to display nearby locations, with their search engine selecting the appropriate overlay for the search terms.
So, if you're desperate for a spicy meal, typing in 'curry house' may might provide the usual geographical information, with perhaps tweets from customers, Panoramio pictures, and a Wikipedia entry.
Although we admire the technology, we're still not convinced by the current crop of augmented reality apps – in fact, we may be having a bit of a rant about them soon, so stay tuned.