Clearly inspired by growing traffic to location based, social networking services like Foursquare and Gowalla, Yelp have bolted on new 'check-in' features to the latest version of its iPhone app.
As well as the check-in feature, user profiles can be checked out, and they've updated their augmented reality 'Monocle' viewer which now lets you see friends' virtual check-ins onscreen.
The check-in stuff is more or less the same as you see on Foursquare and Gowalla, with push notifications telling you when and where chums have checked in and you can also keep track of their whereabouts within the app too.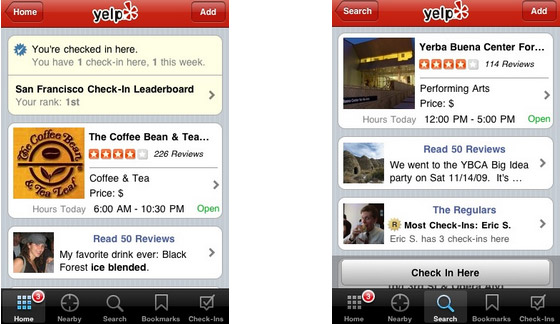 Like it rivals, Yelp comes with all this daft 'badge' stuff, rewarding users when they become a "Regular" at a location – easy to do since you only need to check in twice over eight weeks – and with over a million iPhone owners using the service, Yelp's offering is already more popular than Foursquare and Gowalla combined.
Naturally, it comes fully Facebook/Twitter enabled, and here's Yelp's press release about the update, posted on their company blog:
Today, we are stoked to announce v.4 of our iPhone application: the biggest Yelp for iPhone update yet! It's a veritable treasure trove of on-the-go goodies from community features to contribution ones. Most notably we are bringing even more of Yelp.com to your iPhone, and if you're logged in; you'll notice a new user interface on the app. There's a LOT to cover so let's get to it!

Yelp Profile: Not only are you able to log into your Yelp.com profile (v.3), but now you will also be able to see and interact with your Yelp profile as you would on Yelp.com.

Yelp Friend Finder: You can now see and invite friends from your iPhone's address book to join you on Yelp. If you've connected with Facebook, we'll also let you know if any of your FB friends are yelping, too.

Yelp Check-ins: We've now added the ability for yelpers to "Check-in" to businesses. This includes being able to broadcast your whereabouts and send Quick Tips to your friends on Yelp, Facebook and Twitter who, if they opt-in to these updates, will be able to see your location both via "Push" alerts, as well as on a map. Active users of this feature may receive "Regular" status of highly-frequented businesses. This means they are part of an active group of people who patronize a business and this moniker will appear next to reviews and tips and on business pages in the app, as well as on the business listing on Yelp.com.

Sharing via Facebook Connect and Twitter: We've taken another online feature, offline. Yelpers now have the ability to share their check-ins and Quick Tips via Facebook Connect and Twitter while on the go.
Updates to Monocle: In addition to seeing reviews nearby in Monocle, Yelp's Augmented Reality feature, you can also see which businesses your friend's have "checked-in" to as well as a new "map" in Monocle view that will move with you.
And since a picture or two will spare you from having to read a few thousand words. We present a few screen shots and much shorter descriptions.

What is Yelp Check-ins? Yelp Check-ins is a way for you to broadcast that you are at a business to friends on Yelp, Facebook or Twitter. Your friends will be able to see:
– Your activity via your Yelp for iPhone profile page
– Opt-in alerts including "Push" notifications
– A Leaderboard on Yelp for iPhone
– A Map that will also show the "Check-ins" of your friends nearby and your check-in count next to your Yelp star rating if you've written a review on Yelp.com
– Where you've checked in on Monocle, Yelp's AR feature launched in August
-Active users of Yelp Check-ins can also earn "Regular" status of highly-frequented businesses.

What are Yelp Regulars? Yelp is all about community – we have never put emphasis on any one voice or opinion. In line with that philosophy, we opted to highlight a group of people who frequent a business as opposed to just one person. "Regular" status can be achieved by frequent patronage – or checking in – of a business. This title will show up on a user's profile, next to reviews and tips and on the business page in the iPhone app, as well as eventually on that business listing on Yelp.com. The Regular with the most Check-ins will not only be featured on that business page, but get to wear the golden badge of honor. The moniker can also be lost if patronage wanes, so Regulars must visit a business often to keep it.

Why Check-ins? Yelp Check-ins is a natural extension of our existing product. Best of all, it gives the 1.25 million people who used our app last month a new way to share information about local businesses with their friends and other users. Check-ins will also be integrated into our website experience, adding another layer of trusted data for consumers who are reading the reviews. Now not only will you be able to see who posted the review – but how many times they've been there. This also helps business owners understand who some of their most loyal customers are.