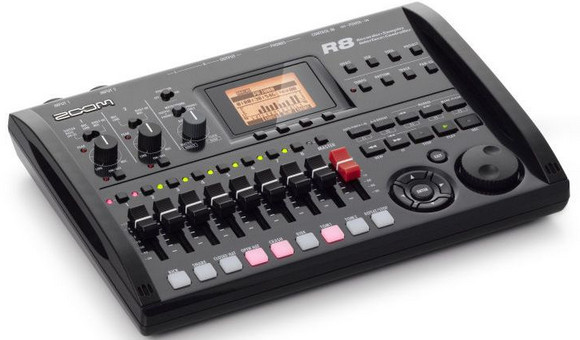 Hoping to tempt musicians away from the next spliff is the Zoom R8, a compact 8-track recorder offering an audio interface, DAW control surface and a sampler – plus drum pads, a rhythm machine, tuner and metronome – all at a remarkable price.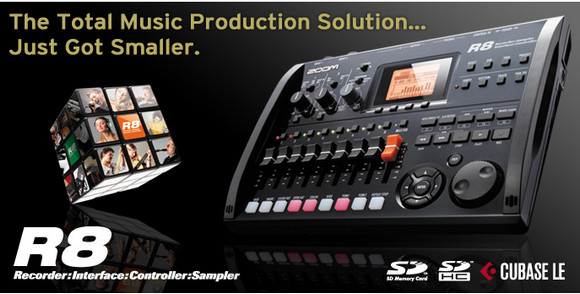 Back in the day, a musician who was taking his craft seriously would save up for a Tascam Portastudio, a great beast of a recording machine which squeezed four tracks of music on to the humble but hissy cassette tape.
Although laptops and iPads have largely taken over for recording on the move, there's still a lot to be said for a dedicated machine with proper physical sliders (you try manually fading five channels at the same time onscreen or with a mouse).
The R8 looks to be a versatile powerful device at an astonishingly low price.
The digital recorder offers 2-track simultaneous recording and playback up to eight tracks of audio at up to 24-bit/48kHz resolution as WAV files. A handy UNDO/REDO function lets you go back to the last take, and complete songs can be mixed down and saved.
There's also stereo mics onboard, two balanced XLR-1/4-inch combination inputs supporting  phantom power, and over 140 built-in DSP effects plus an optional FS01 footswitch.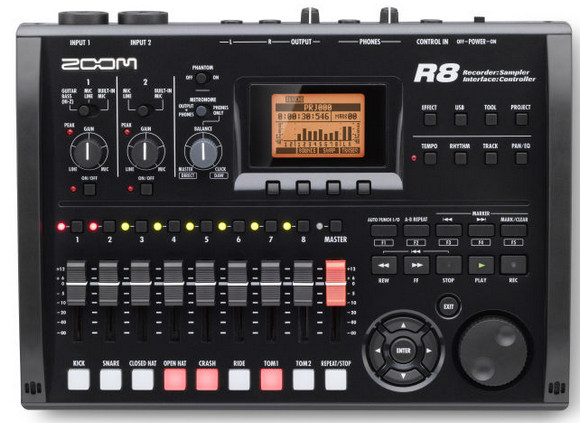 Here's some more technical details from Zoom:
INTERFACE
Audio interface supports 2 inputs and 2 outputs
When combined with your computer, the R8 becomes a powerful audio interface. Connect the R8 to your computer via USB, launch your favorite DAW or use the included Cubase LE software and start laying down your tracks. Simultaneous 2-in/2-out capability allows you to record up to 24-bit/96kHz high definition audio. If you use the 44.1kHz sampling rate, the internal DSP effects of the R8 are also available for your computer tracks. A dedicated control lets you adjust the mixing balance between the DAW playback sound and the direct sound for monitoring.

CONTROLLER
Control surface functions for most DAW software
The R8 can be used as a control surface for DAW transport functions (play, record, stop) and mixing operations. Through a USB connection, you can control the transport and mixing functions of major DAWs such as Cubase, Logic, and Sonar from the R8. In addition, you can easily move multiple faders at the same time. No more mixing with a mouse! The R8 makes mixing a pleasure.

SAMPLER
8-voice sampler with 8 pads
The built-in sampler functions allow you to loop audio data on any track. You can play the pads in real-time and combine loops to create a performance for an entire song. When setting loop intervals, you can see the waveforms for visual confirmation. Time-stretching, which allows you to change the tempo without changing the pitch, and trimming the unneeded parts of loops, is also possible. You can use the sampler and recorder functions together seamlessly to play back loop tracks while recording instrumental performances on other tracks.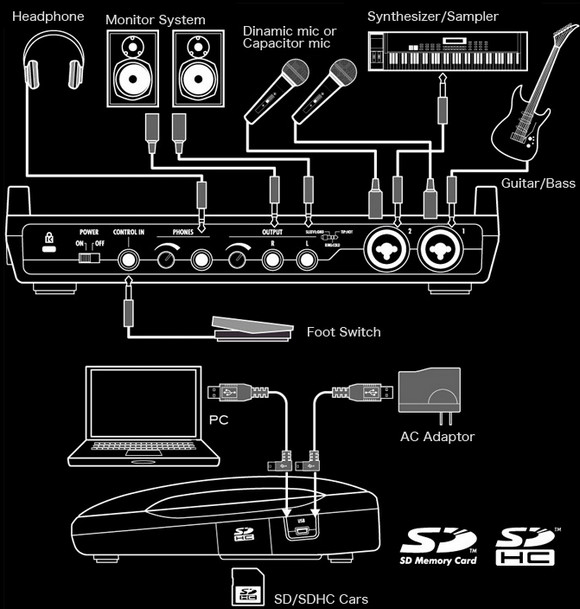 For storing your banging tunes, there's support for SDHC cards up to 32GB, with the bundled 2GB SD card containing 500 MB of drum loops from Big Fish Audio. A copy of Cubase LE is also lobbed in the box for nowt.
Powered by an AC adapter, 4 AA batteries or even the computer's USB bus, this looks to be a fabulously flexible studio device offering the kind of facilities that would have cost you a pretty penny not that long ago – we've seen it on Thomann for under £250.
[Zoom R8]