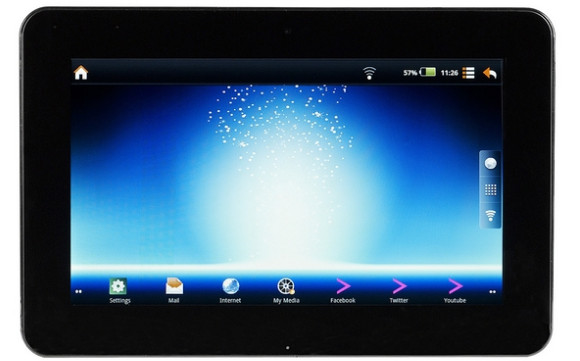 We've been mightily intrigued by the budget priced, high spec'd Advent Vega Android tablet, but it looks ike we won't be able to get our grubby paws on one quite yet.
Unprecedented demand
After taking delivery of stock of the Advent Vega this morning, UK retailer PC World has announced that "due to unprecedented demand we have sold out and will be back in stock next week."

Touted as  "a quality and affordable tablet computer, brimming with features," the Advent Vega offers a capacitive multi-touch 10.1" screen, nVidia Tegra 2 dual core 1GHz processor and Android Froyo 2.2 operating system offering a respectable ten hours battery life – all for a hugely competitive £249.99 .
Naturally, PC World are as chuffed as Lord Chuff on All Chuff's Day at the news, and issued this statement a short while ago:
The first shipment of Advent Vega tablets was made available at the start of business today on the Currys and PC World websites, and sold out nearly as quickly as 'Take That' tickets.

We are expecting more stock and bigger shipments over the coming days which we will be rolling out as quickly as possible to all our stores in time for the busiest Christmas shopping weekends in December, starting with Currys and PC World megastores at the end of next week.
How many?
It's a shame that Currys omitted to mention how many units they actually sold, although we're not surprised to see this tablet selling like hotcakes because it certainly offers an awful lot of Android bang for your buck.
[Currys]