Apple has announced that a new update of their proprietary digital media player application, iTunes, is now available for download.
The latest version comes with iBooks support for the iPhone and iPod touch (withPDF syncing) plus home screen folder organisation, and nippier backups on iOS 4 devices.
To be honest, we're not big fans of the program and find ourselves pretty much in agreement with Guardian columnist  Charlie Brooker's sentiments about the software when he was forced to install it after buying an iPad:
You're required to use iTunes during the setup process, which is like being forced to eat a handful of mud. iTunes is twice as awful as any software crime Microsoft ever inflicted on the world. Up popped a progress bar which turned out to be a work of satirical fiction – lodging fast at 7/8ths complete while making random claims about how long it was going to take to finish. It was impossible to tell if it had crashed or was just being sarcastic.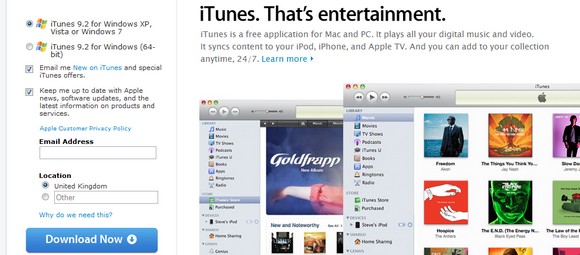 Ready to berth
We switched to the excellent Media Monkey alternative software on our office PCs ages ago, but if you're still burdened with the beast that is iTunes – or strangely actually like it – then you'll be pleased to learn that a shiny new update is ready to berth with your computer .
If you've rushed out to bag an iPad or the new iPhone 4, it seems that the new iTunes 9.2 is something of a 'must-have', with Apple promising the following improvements:
Sync with iPhone 4 to enjoy your favorite music, movies, TV shows, book and more on-the-go
Sync and read books with iPhone or iPod touch with iOS 4 and iBooks 1.1
Organize and sync PDF documents as books. Read PDFs with iBooks 1.1 on iPad and any iPhone or iPod touch with iOS 4.0
Organize your apps on your iOS 4 home screens into folders using iTunes
Faster back-ups while syncing an iPhone or iPod touch with iOS 4
Performance improvements make scrolling much faster
The Apple iTunes 9.2 update is available now via Software Update or via Apple's site for both Macs and PCs.