According to the busy-Tweeting Conor from Orange, the long overdue Android Froyo 2.2 update has started to roll out to their HTC Desire customers.
The oft-delayed update brings sweet Android 2.2 OS goodness to the already marvellous HTC Desire phone –  and hopefully will get rid of some of the useless cack that Orange originally burdened the phone with.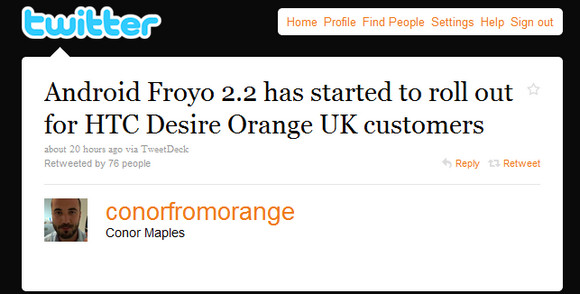 Where is it?
We've been bashing the Settings -> About phone -> System software  updates -> Check now menus like a dervish on crack, but there's nothing showing for us yet.
Under pressure from impatient Tweeters, the beardy Conor commentated:
Froyo is available to everyone on a HTC Desire on Orange UK. It mightn't always appear on your updates straight away due to the amount of traffic going through HTC's servers.
The questions kept on coming, promoting a slightly annoyed-sounding Conor to add:
traffic on a server is traffic on a server, sorry but I can't be more specific than that, Froyo should be with you soon
Are you Froyo'd?
So, how about you folks out there in Orange Android land?
Have you got your HTC Desire updated yet?