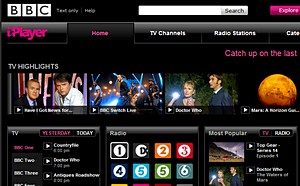 The BBC has teamed up with gaming giants Nintendo to launch a new and improved version of the iPlayer catch-up service for the Nintendo Wii gaming console.
Following the launch of the iPlayer for the Playstation network in September, the new version improves on the frankly rubbish original which we found so clunky that we quickly abandoned it.
The new iPlayer channel will be available to download from November 18, and the BBC are hoping that it will prove a hit among the one million Wii users in the UK.
The player also makes sense for Nintendo who are keen to increase the market for their products and give users more reasons to turn on their Wii boxes every day.
Consumers have already warmed to the idea of using gaming consoles to access iPlayer content, with recent figures revealing that nearly 6% of iPlayer viewers use PlayStation consoles to tune into the service.
We'll certainly be giving the Wii iPlayer a go on Wednesday, and will report back our findings.