It's long overdue, but the folks at the BBC have finally got around to spreading the love Android's way with the release of their  BBC News for Android app.
Six million iOS downloads
The iOS version of the app has already bagged no less than six million downloads by iPhone and iPad users after being released in July 2010.
Of that total, half of all downloads were from the UK, so there's surely a lot of mobile-toting Brits feeling the love for the Beeb.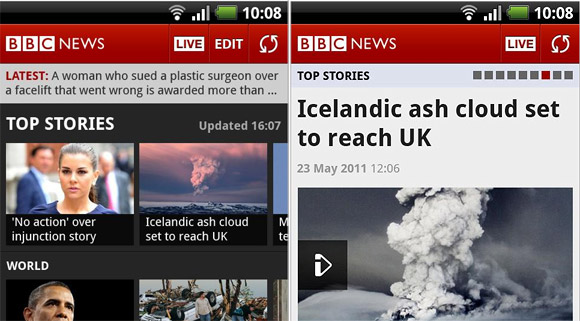 Here's the BBC to tell us more:
The BBC News Android app is available on all Android phones and tablets running software versions 1.6 and above, but we're not yet supporting Honeycomb tablets (Android software version 3.0).

The app's video experience is accessible to both Flash and non-Flash enabled devices, over wi-fi and 3G connections.

In-story video is supported on Android devices versions 1.6 and above, and live streaming of the BBC News channel is possible on versions 2.2 and above which run Flash.
The 580k download lets users personalise their news by adding or removing categories, and there's also the inevitable sharing tools onboard, plus a natty breaking news ticker.
Here's the full listing of features:
• Simple design with scroll functionality to enable efficient browsing
• Tap to reveal full-screen article and in-story video
• On a story page, swipe sideways to read the next story
• Sharing tools to post stories to a range of social networks, or email / SMS to a friend
• Latest and breaking news ticker
• An 'Edit' menu, allowing you to personalise the homescreen by adding and removing news categories to suit your preferences
• Live streaming of the BBC News channel for Android 2.2 devices running Flash
• Settings to allow the app to automatically update in the background
• Font controls to increase or decrease the story text size to suit you
• Full range of News categories: Top stories, World, UK, Sport, Technology, Entertainment & Arts, England, Northern Ireland, Scotland, Wales, Business, Politics, Health, Education, Science & Environment, Features & analysis, Also in the news
It's a delightfully slick app and it seems churlish to complain about a freebie, but users running out of space on their phones won't be pleased to note that the app can't be installed to the SD card. Sort it out BBC!
You can download the BBC News for Android app on the Android Market. We love it.