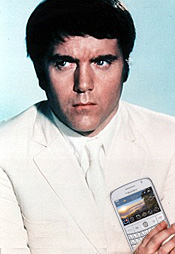 For Blackberry fans feeling a little fed up with the current colour options of black, black or black, then there's good news a-stirring in Japan, where  RIM (Research In Motion) are about to roll out a 'BlackBerry Bold' smartphone in a natty shade of white.
Perfect for anyone rocking a Marty Hopkirk look, the none-more-white handset will be released to the Japan market via NTT DoCoMo, and made available on December 3rd in time for an extra white Christmas.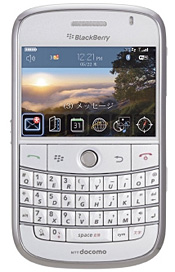 Sporting a 65,536-color TFT LCD display with 480 x 320 pixels, the BlackBerry Bold  (or should that be Whiteberry Bold?) comes with a Qwerty keyboard, track ball, fairly weedy 2MP built-in camera and all the usual RIM trimmings.
We think there'd be quite a market for Blackberry handsets in a range of pretty colours, although white would never be our choice, seeing as we'd be sure to convert it to a coffee and beer-tinged beige sharpish.