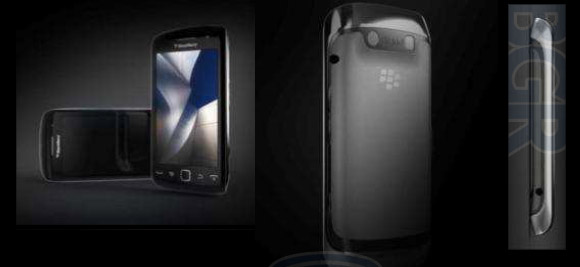 Details and some itsy-bitsy photos of the new BlackBerry Storm 3 have started leaking out over the web, with RIM's  new high end handset shown to be packed with upmarket specs.
High res screen
Set to feature the highest resolution screen to ever be bolted on to a BlackBerry smartphone at  800 x 480-pixels, the Storm 3 will come with an optical trackpad and purr along on a 1.2GHz processor.
There'll also be a 5-megapixel camera with 720p video recording, 8GB eMMC  for apps and data storage, 512MB of RAM and a microSD slot.
Here's the full spec sheet as revealed on tech site BGR:
1.2GHz processor
3.7-inch 800 x 480 capacitive display
Quad-band GSM/GPRS/EDGE
Tri-band UMTS/HSPA
5-megapixel camera with 720p video recording
8GB eMMC (storage for apps and data), 512MB of RAM
microSD slot
Magnetometer
Proximity sensor
Accelerometer
Bluetooth 2.1 + EDR
2.4GHz b/g/n and 5GHz a/n Wi-Fi + UMA
3G Mobile hotspot
Optical trackpad
1230 mAh battery
BlackBerry OS 6.1
OpenGL ES 2.0
Miles away
It's all looking pretty good for the BlackBerry Storm 3 apart from the release date which is set impossibly far into the future, at September this year.
We may as well made it all up
It's also worth bearing in mind that with a release date so far ahead, there's a pretty good chance that the specs may alter radically before release.
Come to think of it, the whole design could change completely too, so we're now beginning to wonder why we bothered posting this up.
Oh well, it's a Friday and we'l be down the pub soon.
[BGR]