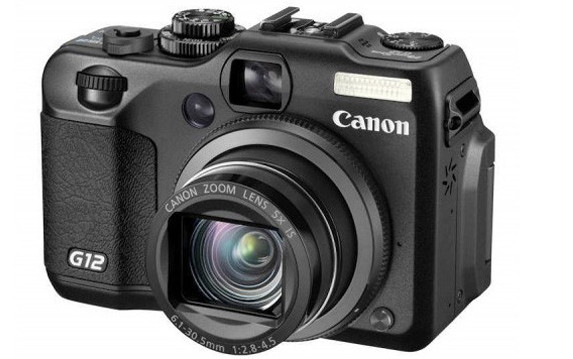 With the high end compact camera market  heating up with new, enthusiast-tempting models from the likes of Panasonic and Pentax,  Canon have released the latest update to their flagship 'G' range, the PowerShot G12.
Tough'n'clunky
Replacing last year's PowerShot G11, the new camera inherits the slightly clunky but tough looks of its predecessor,and sees the introduction of an EOS-style front control dial, Electronic Level, Tracking AF, Hybrid IS for close-up work, and – finally – 720p HD video recording (1280 x 720 @ 24 fps).
The same tilt and swivel 2.8″ LCD is ready to articulate its way into your life, with the zoom lens remaining set 28-140mm (35mm equiv) with a less than exiting maximum aperture of f/2.8 (f/4.5 at telephoto end).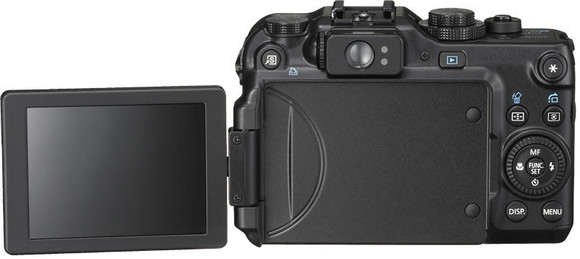 Tweakin' controls galore
Naturally, there's manual controls on board, plus the usual auto modes and a slew of scene modes including High Dynamic Range, Fish Eye Effect and the near omnipresent Miniature Effect, now being overused on a Flickr account near you.
Finishing off the top notch list of specs and features is RAW shooting, a high-sensitivity 10 MP CCD, HDMI out, Face Detection, Multi-Aspect Shooting, optical viewfinder (we like them)  and a hotshoe for fitting an external flash.
It's a lovely camera… but it's a big fella
We've always liked the Canon G range, but the bulk has always put us off. Although there was some debate about whether it was possible to wedge a Lumix LX5 into your cargo pants pocket, you'd really have no chance with this beast.
And that begs the question – with its RRP of £539, wouldn't it just make more sense to shell out for a slightly larger entry level dSLR, which would offer superior pictures and a far more versatile camera system?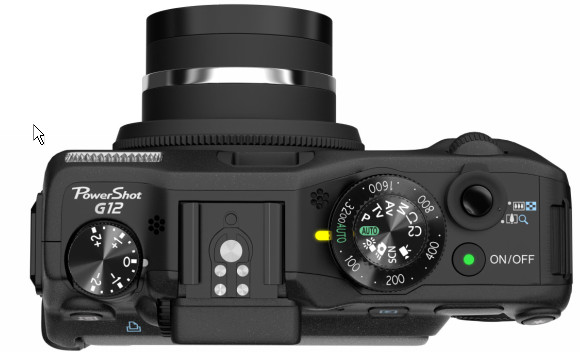 Here's Canon stating the case for the new G12 in their Press Release, with the full spec sheet following.
London, UK, 14th September 2010 – Canon today announces the new PowerShot G12 – the latest model in the multi award-winning PowerShot G-series trusted by professional photographers the world over. The new model offers photographers best-in-class flexibility and all-round powerful performance, with professional levels of control and support for a wide range of accessories.

While retaining the classic handling and control of its predecessor, the PowerShot G12 has been designed to offer superior performance to suit the needs of professionals and enthusiasts alike. Canon's HS System, 720p HD movie recording and Hybrid IS are new additions, delivering premium image quality in stills and movies, and a new Front Dial provides improved handling and swift manual control. The PowerShot G12 is also compatible with a new optional Lens Filter Adapter, which extends with the lens when using the zoom to offer full coverage throughout the zoom range.

The HS System: Premium Canon image quality, even in low light
The PowerShot G12 is the first G-series model to feature Canon's HS System – a powerful combination of a high-sensitivity 10.0 Megapixel CCD sensor and high-performance DIGIC 4 processor designed to provide outstanding image quality in all lighting conditions, including low light.

The inclusion of the HS System allows shooting at higher ISOs with excellent image quality – enabling users to capture exceptional images in all conditions. This extended ISO range allows users to shoot darker scenes without engaging the flash or using a tripod – capturing correctly-exposed images using only the available light. In situations when use of the flash is necessary, a higher ISO will enable users to extend its effective range and illuminate the subject more effectively. Higher ISOs also enable users to utilise faster shutter speeds – freezing motion to capture moving subjects with a reduced risk of blur.

Allowing users precise control over the ISO level, the dedicated ISO dial now allows adjustments in 1/3 stop increments.  In addition to this, a new Auto ISO level adjustment feature allows users to pre-configure the maximum ISO setting they wish to use during shooting and specify how the camera selects the ISO to obtain the best balance between image quality and shutter speed.

In very dark situations, Low Light mode can be used to extend the ISO range up to ISO 12800, with the ability for users to control ISO and white balance to accurately capture the ambience of a dimly-lit environment. Users can also capture fast-moving action with the ability to shoot at up to 4.2 shots per second.

Genuine Canon Lens with Hybrid IS
The PowerShot G12 features a premium 28mm wide-angle 5x optical zoom lens, allowing users to capture sweeping landscapes and get closer to distant subjects during shooting. Benefiting from Canon's extensive heritage in lens design, the lens has been developed using the same processes and quality standards employed to manufacture Canon's range of EF lenses, ensuring the capture of sharp, detailed shots while still having a compact size so the lens can retract completely into the camera body when not in use.

Counteracting camera shake and enabling photographers to capture shots in darker conditions, the PowerShot G12's optical Image Stabilizer allows shooting at shutter speeds approximately 4-stops slower than would be otherwise necessary to achieve a sharp shot. Also included in the PowerShot G12 is Canon's Hybrid IS technology to increase the effectiveness of the optical Image Stabilizer when shooting macro subjects. The PowerShot G12 can focus as close as 1cm to a subject, and the slightest lateral movement of the photographer can negatively affect image quality, making it difficult to capture blur-free shots without the assistance of a tripod. Hybrid IS counteracts unintentional shift and angular movement – two kinds of camera shake that become particularly pronounced as image magnification increases.

Flexible shooting
Flexible shooting and playback is provided by the PowerShot G12's 7.0cm (2.8") high-resolution Vari-Angle PureColor II VA LCD screen. The rotating Vari-Angle design offers easy framing from a range of angles, such as when shooting at ground level or overhead. To accommodate a range of shooting styles, the PowerShot G12 also features an optical viewfinder (OVF) with diopter adjustment, allowing users to match the OVF to their vision. After image capture, photographers can also utilise the newly integrated RGB histogram during playback, allowing them to instantly check the exposure of a shot in detail.

Take complete control
As well as offering Full Manual control and a range of semi-automatic modes, the addition of a new Front Dial provides swift and convenient access to settings during shooting. Users can either prioritise the Front Dial or the rear Multi-Control Dial as the main way of controlling the camera, or use a combination of both. For example, the Front Dial can be set to control aperture in AV mode while the Multi-Control Dial controls white balance or shooting aspect ratio, or it can be used independently, with the rear Multi-Control Dial disabled to prevent accidental changes to settings.

For advanced amateurs and professionals, the PowerShot G12 also shoots uncompressed RAW images and includes Canon's Digital Photo Professional (DPP) software, providing the ability to edit images after capture. Sharing the same post-editing environment as the EOS system, the PowerShot G12 fits seamlessly into a photographer's existing workflow.

Electronic level and Multi-Aspect shooting
To aid the capture of level horizons, the PowerShot G12 also features a new Electronic Level function. Using information from the camera's acceleration sensor, an on-screen indicator allows users to check if the camera is level, working in either horizontal or vertical orientations to ensure level shots of portrait or landscape scenes. Multi-Aspect shooting in 3:2, 4:3, 1:1, 16:9 and 4:5 formats also allows photographers to shoot according to their subject and the intended use of the image, enabling them to choose which composition and result they want to capture as the image is taken and removing the need to post-process.

Stunning images, stunning video – HD movies with stereo sound
For the first time in a G-series model, the PowerShot G12 features 720p HD movie shooting (24fps) with stereo sound. Miniature Effect is also available in movie mode, adding a different dimension to video footage by shooting at a range of selectable slower frame rates for dramatic, compelling time-lapse-style videos which appear of model scale. An integrated HDMI port with CEC compatibility makes it simple for video and stills to be viewed on a HDTV and controlled directly using a compatible HDTV and remote control.


Capture scenes as you see them
Exceeding the limitations of conventional cameras the PowerShot G12 includes a new High Dynamic Range shooting mode*1, allowing the capture of high contrast scenes closer to how they appear to the user. While shooting on a tripod, the PowerShot G12 takes three different exposures of the same scene before analysing and combining shots in-camera to create a single image. The resulting shot captures highlight and shadow detail closer to how the photographer sees it.

As part of i-Contrast processing, the PowerShot G12 allows control over the amount of Dynamic Range correction which is applied in the camera to suppress highlight blow out and shadow detail loss in the final result. To allow photographers to brighten only shadowed areas of an image, Shadow Correction is included to brighten darker areas and reveal hidden detail in shadow regions.

To track subjects that are in motion, or to help achieve a creative composition, a new Tracking AF mode has been added to the PowerShot G12. This new mode gives photographers the ability to select objects from the centre of the frame and track them if they move, or if the frame is recomposed.

Extended shooting abilities
The PowerShot G12 offers comprehensive support for a wide range of accessories, expanding both the creative possibilities and providing enhanced results in certain shooting situations. A new lens filter adapter FA-DC58B attaches directly to the lens barrel ring, providing the ability to attach 58mm diameter Canon filters – such as a Circular Polarizer, Neutral Density, Protect and UV. The FA-DC58B is designed to move along with the lens while zooming, preventing vignetting at the wide-angle end of the zoom and providing filter coverage throughout the full optical zoom range of the lens.

The hot shoe provides compatibility with Canon's range of EX Speedlites*2, enabling photographers to both increase the available flash power or use an external flash via a remote shoe cord (OC-E3) for creative off-camera lighting, or to experiment with different lighting techniques. An optional Waterproof Case provides protection at depths of up to 40 meters, allowing users to record deep-water experiences in stunning detail.

While the PowerShot G12 offers the freedom and flexibility of manual control, users can also achieve exceptional image quality using Smart Auto mode. Intelligently detecting the scene and selecting the optimum settings from 28 variables, Smart Auto uses Scene Detection Technology to provide the best results in all conditions – allowing both serious photographers and beginners to capture excellent images instantly.

Eye-Fi connected functions
Easy, wireless content transfers are supported by Eye-Fi connected functions, allowing remote uploads to image sharing websites such as CANON iMAGE GATEWAY. The camera features a dedicated Eye-Fi section within the User Interface, and disables the auto power-down function when the Eye-Fi card transmits data – allowing the easy transfer of content without interruption*3.

Designed for photographers who demand exceptional quality in every area, the PowerShot G12 represents a unique blend of premium image quality, flexibility and excellent handling. A great complement to a larger SLR model or a powerful camera in its own right, it's the perfect compact for professionals and advanced amateurs – delivering outstanding quality from a body small enough to take on every assignment.

Share stories with CANON iMAGE GATEWAY
Owners of the PowerShot G12 can join the CANON iMAGE GATEWAY, an online facility for sharing photos and video. Photographers can take advantage of up to 2GB of personal storage capacity, creating enough room for hundreds of high-quality images. Mobile browsing is also supported, making it easy for friends and family to view photos on the move.

Canon PowerShot G12 – key features:

HS System
High-sensitivity 10 MP CCD
28mm wide, 5x zoom lens, Hybrid IS
7.0 cm (2.8″) Vari-Angle LCD, Electronic Level, OVF
Front Dial, Full Manual & RAW
HD movies, HDMI
High Dynamic Range mode
Smart Auto
Multi-Aspect Shooting
Extensive accessory system
*1 Tripod required for High Dynamic Range shooting.
*2 See specification for details.
*3 This product is not guaranteed to support Eye-Fi card functions (including wireless transfer). In case of an issue with an Eye-Fi card, please check with the card manufacturer.
Also note that approval is required to use Eye-Fi cards in many countries or regions. Without approval, use of the card is not permitted. If it is unclear whether the card has been approved for use in the area, please check with the card manufacturer.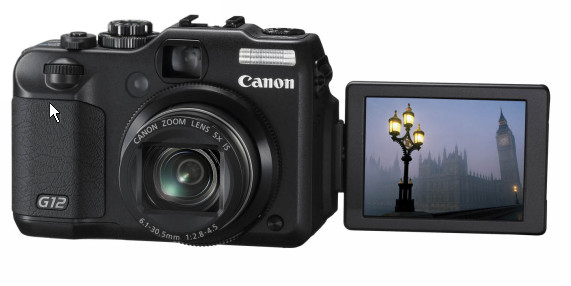 Specifications
Compact digital still camera with built-in flash, 5x Optical / 4x Digital / 20x Combined Zoom with Optical Image Stabilizer System
10.0 Megapixel, 1/1.7-inch type Charge Coupled Device (CCD)
Total Pixels
Approx. 10.4 Megapixels
Focal Length
6.1 (W) – 30.5 (T) mm (35mm film equivalent: 28 (W) – 140 (T) mm)
Digital Zoom
4x
Focusing Range
Normal AF: 2.0 in./5cm – infinity (W), 12 in./30cm – infinity (T);
Normal (With Tele-Converter): 1.8 ft./55cm – infinity (T);
Macro AF: 0.4 in. – 1.6 ft./1 – 50cm (W), 12 in. – 1.6 ft./30 – 50cm (T)
Manual Focus: 0.4 in./1cm. – infinity (W), 12 in./30cm – infinity (T)
Autofocus System
TTL Autofocus
Optical Viewfinder
Real-image optical viewfinder
LCD Monitor
2.8-inch TFT color LCD (Vari-angle type with wide-viewing angle)
LCD Pixels
Approx. 461,000 pixels
LCD Coverage
Approx. 100%
Maximum Aperture
f/2.8 (W) – f/4.5 (T)
– f/numbers available in Av and M:
W: f/2.8, 3.2, 3.5, 4.0, 4.5, 5.0, 5.6, 6.3, 7.1, 8.0
T: f/4.5, 5.0, 5.6, 6.3, 7.1, 8.0
Shutter Speed
1 – 1/4000 sec.
15 – 1/4000 sec. (Total shutter speed range)
– Shutter speeds differs depending on the shooting mode.
– Shutter speeds available in Tv and M:
15, 13, 10, 8, 6, 5, 4, 3.2, 2.5, 2, 1.6, 1.3, 1, 0.8, 0.6, 0.5, 0.4, 0.3, 1/4, 1/5, 1/6, 1/8, 1/10, 1/13, 1/15, 1/20, 1/25, 1/30, 1/40, 1/50, 1/60, 1/80, 1/100, 1/125, 1/160, 1/200, 1/250, 1/320, 1/400, 1/500, 1/640, 1/800, 1/1000, 1/1250, 1/1600, 1/2000, 1/12500, 1/3200, 1/4000 (Units: sec.
Sensitivity
Auto, ISO 80/100/125/160/200/250/320/400/500/640/800/ 1000/1250/1600/2000/2500/3200
Light Metering Method
Evaluative*1, Center-weighted average, Spot*2
*1 Facial brightness is evaluated (Face Detect AE) in Face AiAF.
*2 Fixed to Center, linked to AF frame.
Exposure Control Method
AE Lock
– Not available when shooting videos
Exposure Compensation
+/-2 stops in 1/3-stop increments
– Not available when shooting videos
White Balance Control
Auto*, Daylight, Cloudy, Tungsten, Fluorescent, Fluorescent H, Flash, Underwater, Custom1, Custom2
*Facial color is evaluated in Face AiAF (Face Detect WB).
Built-in Flash
Auto, on, Slow Synchro, off, Red-eye Reduction, FE Lock
– Facial brightness is also evaluated in Face AiAF.
Flash Range
1.6 – 23 ft. (50cm – 70m) (W), 1.6 – 13 ft. (50cm – 4.0m (T)
– Image brightness may diminish depending on the shooting distance.
Recycling Time
10 sec. or less (battery voltage: 7.4V)
Flash Exposure Compensation
+/-2 stops in 1/3-stop increments
Shooting Modes
Smart AUTO, P, Tv, Av, M, C1, C2, Low Light, Quick Shot, SCN*1, Movie*2
1 Portrait, Landscape, Kids & Pets, Sports, Smart Shutter*3, Super Vivid, Poster Effect, Color Accent, Color Swap, High Dynamic Range, Nostalgic, Fisheye Effect, Miniature Effect, Beach, Underwater, Foliage, Snow, Fireworks, Stitch Assist
*2 Standard, Miniature Effect, Color Accent, Color Swap
*3 Smile, Wink Self-timer, Face Self-Timer
Photo Effects
My Colors
My Colors Off, Vivid, Neutral, Sepia, Black & White, Positive Film, Lighter Skin, Darker Skin, Vivid Blue, Vivid Green, Vivid Red, Custom Color*
* Adjustment of contrast, sharpness, saturation, red, green, blue and skin tone are available.
– Not available in RAW and RAW+JPEG
Self Timer
Custom*
*Delay time (0 – 15 sec. (in one-second increments), 20/25/30 sec.) and number of shots
(1 – 10 shots (in one-shot increments)) can be specified.
Wireless Control
Not available
Continuous Shooting
Normal: Approx. 2.0 shots/sec. (when shooting in P mode), Approx. 4.2 shots/sec. (when shooting in Low Light mode)
AF: Approx. 0.7 shots/sec. (when shooting in P mode), Approx. 1.0 shots/sec. (when shooting in Low Light mode)
LV: Approx. 0.8 shots/sec. (when shooting in P mode), Approx. 1.2 shots/sec. (when shooting in Low Light mode)
– Under conditions where the flash does not fire automatically.
– Differs depending on the zoom position.
Storage Media
SD/SDHC Memory Card, SDXC Memory Card, MultiMediaCard, MMC Plus Card, HC MMC Plus Card
File Format
Design rule for Camera File system, DPOF (Version 1.1) compliant
Image Recording Format
Normal, Fine, RAW
JPEG Compression Mode
Still Image: Exif 2.3 (JPEG), RAW (CR2 Canon Original))*
* Images processed with DPP.
Videos: MOV (Image data: H.264, Audio data: Linear PCM (Stereo))
Number of Recording Pixels
Still Image: 16:9 Large: 3648 x 2048 Medium 1: 2816 x 1584 Medium 2: 1920 x 1080 Small: 640 x 360
3:2 Large: 3648 x 2432 Medium 1: 2816 x 1880 Medium 2: 1600 x 1064 Small: 640 x 424
4:3 Large: 3648 x 2736 Medium 1: 2816 x 2112 Medium 2: 1600 x 1200 Small: 640 x 480 RAW: 3648 x 2736 – Fixed to 1824 x 1368 when in Low Light
1:1 Large: 2736 x 2736 Medium 1: 2112 x 2112 Medium 2: 1200 x 1200 Small: 480 x 480
4:5 Large: 2192 x 2736 Medium 1: 1696 x 2112 Medium 2: 960 x 1200 Small: 384 x 480
Videos: Standard, Color Accent, Color Swap: 1280 x 720 (24 fps*1), 640 x 480 (30 fps*2), 320 x 240 (30 fps*2) Miniature Effect: 1280 x 720 (Shooting: 6 fps/3 fps/1.5 fps; Playback: 30 fps*2) 640 x 480 (Shooting: 6 fps/3 fps/1.5 fps, Playback: 30 fps*2) *1 Actual frame rate is 23.976 fps. *2 Actual frame rate is 29.97 fps.
Playback Modes File
– Auto Rotate (Automatic vertical/horizontal detection), Resume Playback, Image Advance (Operation Tools, Transition effects, Scroll Display), Rotate, Favorites, My Category, Jump, Slide Show (Playback Interval, Repeat, Effect, Playlist), Smart Shuffle – Still Images: Single, Index, Magnification, Trimming, Resize, Focus Check, Histogram, Overexposure Warning. – Videos: Normal Playback*, Editing, slow motion **, pause, first frame, last frame, next frame, previous frame, fast forward, fast rewind * Auto settings available in 5 levels ** 5 levels (including normal playback), sound not available.
Erase Modes
Select image, select range, all images (all filtered images) – The image data in the memory card stored with the design rule for camera file systems format can be erased (however, protected images cannot be erased). – RAW + JPEG images can be erased individually.
Computer Interface
USB 2.0 Hi-Speed USB (dedicated female connector with unified type of digital, audio and video)
Video Out
Analog: NTSC/PAL, digital: HDMI mini connector
Audio Out
Stereo
Other
Memory card slot; direct connection to Canon SELPHY Compact Photo Printers, PIXMA Inkjet Photo Printers and PictBridge-compatible printers via camera's USB 2.0 Hi-Speed cable
Power Supply
1. Rechargeable Lithium-ion Battery NB-7L
2. AC Adapter Kit ACK-DC50 LCD Monitor on: Approx. 370 shots LCD Monitor off: Approx. 1000 shots Approx: 310 shots when in Quick Shot mode (LCD monitor on) Approx. 7 hours
Power Source
1. Rechargeable Lithium-ion Battery NB-7L
2. AC Adapter Kit ACK-DC50
Shooting Capacity
LCD Monitor on: Approx. 370 shots LCD Monitor off: Approx. 1000 shots Approx: 310 shots when in Quick Shot mode (LCD monitor on)
Playback Time
Approx. 7 hours
Operating Temperature
32-104°F/0-40°C
Operating Humidity
10-90%
Dimensions (W x H x D)
4.41 x 3.00 x 1.90 in. / 112.1 x 76.2 x 48.3mm* CIPA Compliant
Weight
Approx. 12.4 oz./ 351g (camera body only)