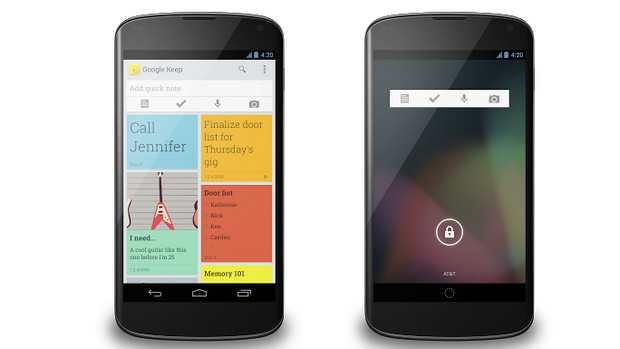 We've been battling away with different note-taking apps for a long time but – like U2 – we still haven't found what we're looking for – so we're pretty excited at the prospect of checking out Google's new effort, called Google Keep.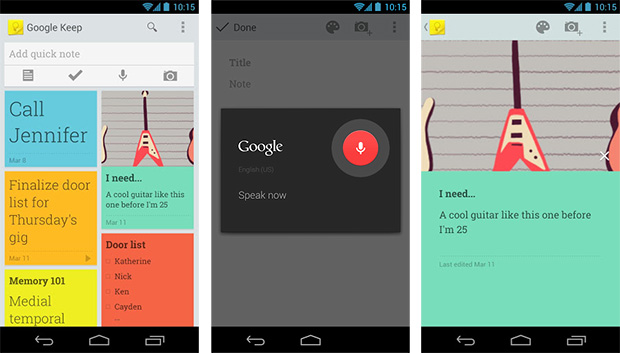 Offered as a free Android app with companion web interface, Keep lets you quickly jot notes down, with the option to include checklists, photos and voice memos, which can be automatically transcribed.
Notes are saved in the cloud via the Google Drive service, and the service comes with a "super-fast search."
The Android interface lets you drag your notes around to reflect their priority and each note can have a custom colour applied to it.
There's also a home screen widget and a lock screen widget, which lets users quickly add a note without unlocking their device (on devices running Android 4.2+).
As simple as pie
The app is fairly simple and rather pretty. It's not for power users who need to have zillions of notes, but we suspect that for people looking for an easy-to-use note taking app with a bright and breezy interface, Keep will be ideal.
The voice transcription feature is particularly impressive and offers a handy way to make super fast notes – what's really cool is that if you edit an existing note using voice input, you see your words being transcribed on the fly.
There's still not quite enough flexibility in there for us to start abandoning the likes of Evernote and Springpad yet, but if Google keep on adding features (like a way to group notes together), we'll be back to give it another go.
Google Keep is available on Google Play for devices running Android 4.0, Ice Cream Sandwich and above, while notes can be accessed and edited and  on the web at http://drive.google.com.
Here's the feature run down:
With Google Keep you can:
• Keep track of your thoughts via notes, lists and photos
• Have voice notes transcribed automatically
• Use homescreen widgets to capture thoughts quickly
• Color-code your notes to help find them later
• Swipe to archive things you no longer need
• Turn a note into a checklist by adding checkboxes
• Use your notes from anywhere – they are safely stored in the cloud and available on the web at http://drive.google.com/keep