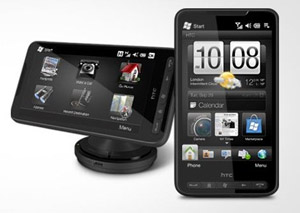 We ran a piece last week previewing one of the early reviews for the Windows Mobile-powered HTC Touch HD2 handset, and the folks at Gizmodo have just posted their thoughts.
The review starts in glowing terms, with the Touch HD2 being described as, " the nicest phone in the world …ostentatiously huge and amazingly slim …business-savvy and utterly pornographic."
The praise continues to flow freely as the HTC's delightfully constructed lines are lovingly admired and the nippy Sense UI praised for delivering the goods with gusto.
And now the bad news
Despite its beautiful build, enormous screen and healthy battery life, the reviewer is quick to point out what he feels is the phone's Achille's Heel: Windows Mobile, declaring the choice of OS, "a tragedy."
And don't get me wrong, this whole Sense thing is surprisingly usable—it's a fairly rare occasion that you fall out of HTC's safe, smooth, grey-and-black arms, and into the Windows 3.1-esque hell that has been, and somehow still is, a Windows Mobile hallmark .

With Sense HTC has made a sort of meta-OS, which uses Windows Mobile 6.5 as a behind-the-scenes stagehand, which only shows its face when it absolutely needs to. HTC has even added multitouch to the browser, maps and photo applications, which works surprisingly well for what almost certainly qualifies as an after-the-fact hack.

It's impressive, but every time you notice the absurd lengths to which HTC has gone to deny this phone is running Windows—they've even replaced the calendar and text messaging apps, for god's sake—you find yourself asking the same question: Why even bother?
We have to say we're a little baffled by this review.
Sure, we dislike clunky ol' WM as much as the next serious smartphone user, but if HTC has created a fast, intuitive and beautiful handset that delivers in all departments, why should anyone really care what's powering it?
The hardware and software appears to have performed perfectly well throughout, and with the reviewer describing the whole handset as "bliss," we're having trouble seeing where the tragedy is here… is it the phone, or the reviewer's bias?