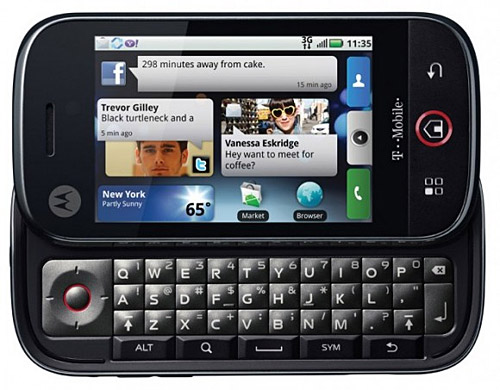 If Motorola's first Android offering has put you into palpitations of phone based delight, then the handset can be yours – all yours – RIGHT NOW if you hurtle across to Orange's Multimedia Store in Milton Keynes.
If the prospect of an emergency trip to savour the delights of Milton Keynes doesn't appeal (frankly, we can understand the reluctance), then you can still be reeling in MOTOBLUR heaven by shimmying into Orange retail stores or Phones 4U stores tomorrow.
Orange are knocking out the handsets for free to customers signing a lengthy 24 month tariff, which includes 900 any network call minutes, unlimited texts, Orange Maps and inclusive anytime Internet browsing, for a badger's whisker under £35 month.
Here's Motorola's snappy feature list, and a promo video too. What joy we bring to you all!
Motorola DEXT with MOTOBLUR
A QWERTY slider, Motorola DEXT is packed full of features including:
* Touch screen capabilities
* 5 megapixel camera with autofocus and connected to Facebook, Picasa, Photobucket or MySpace for easy uploading
* Video speed of 24 frames per second for easy capture & upload to share with friends, as well as playback capability for your favorite YouTube videos 2
* A full HTML browser, 3G speed and Wi-Fi
* A 3.5 mm headset jack for your own headphones and easily connect to your music, create your own playlist or discover new music by seeing what your friends are listening to on LastFM
* Packed with Google Mobile Services: Maps, Talk, Mail, Voice Search, Integrated GPS for turn by turn directions and a rich HMTL browser
* Access to thousands of apps through Android marketplace
* A removable 2GB Micro SD card * Bluetooth capabilities3 Supports up to 32GB MicroSD for all of your photos, music and more