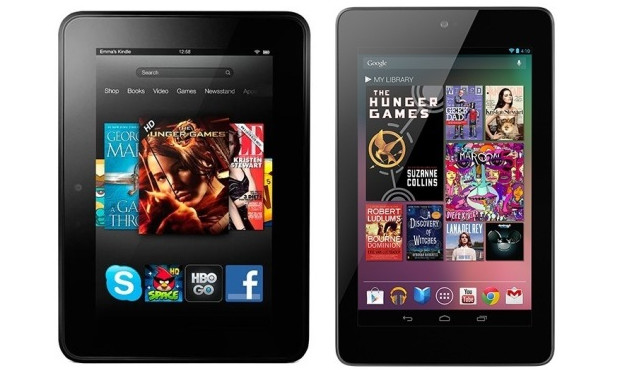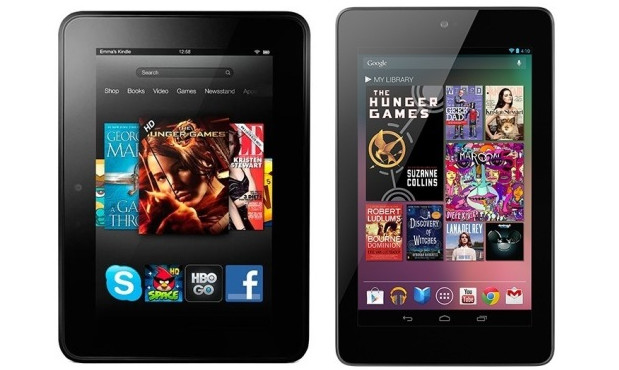 Amazon is shunting out its new Kindle models across Europe and the UK, with the Kindle Paperwhite, Kindle Fire and Kindle Fire HD all heading on to shop shelves today.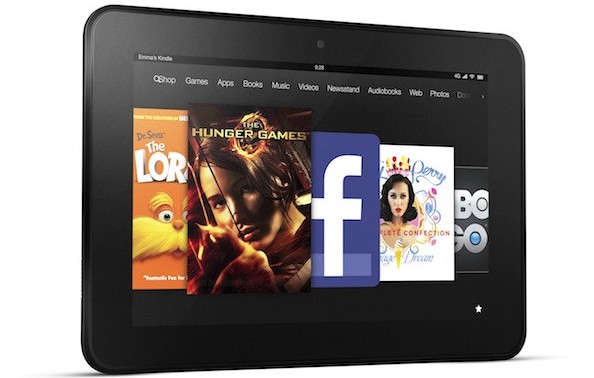 Fire users can enjoy LoveFilm's instant video offering with a free month's trial letting them try before they buy.  The service comes with Whispersync pause/resume across devices, watch list and X-Ray for Movies.
Kindle Fire HD is already the top seller on Amazon worldwide and offers a customised HD display, super-speedy Wi-Fi, dual stereo speakers and Dolby audio and 11 hours of battery life.
Keen pricing
Amazon's pricing is certainly competitive and might be keen enough to make potential iPad Mini buyers take stock.
The Kindle Fire 8GB with Wi-Fi starts at £129 with Special Offers (or £139 without). The Fire HD starts at £159 for the 16GB with Special Offers (£169 without), while the 32GB model can be yours for £199 with Special Offers (£209 without).
We spotted the that Tesco are offering the Kindle Fire HD for a bargain price of £149 using code TD-MXTN (£10 off a £75 spend) – but note that the code expires 28th October, so get in quick!
The Kindle Paperwhite Wi-Fi is £109 and £169 with 3G.
Here a link to grab yourself a Kindle on Amazon:
Kindle Fire HD 7″, Dolby Audio, Dual-Band Wi-Fi, 16 GB – With Special Offers
Here's the full press release:
AMAZON'S LOVEFiLM ARRIVES ON KINDLE FIRE
Thousands of movies and TV shows from LOVEFiLM available on the all-new Kindle Fire HD and Kindle Fire with one month free trial
Watch List lets users create an unlimited streaming playlist that can be accessed anytime, anywhere
X-Ray for Movies lets users interact with the movie through one-touch access to Internet Movie Database (IMDb)
Whispersync technology gives seamless multi-platform viewing experience

OCTOBER 25, 2012 – From today, LOVEFiLM, an Amazon company and Europe's leading film subscription service, will offer thousands of movies and TV shows available for streaming on the all-new Kindle Fire HD and Kindle Fire, including Tinker Tailor Soldier Spy, Karate Kid and Gnomeo and Juliet.

Kindle Fire HD is already the top seller on Amazon worldwide and offers an enhanced viewing experience through its stunning customised HD display, the fastest Wi-Fi, dual stereo speakers and exclusive Dolby audio, powerful processor and graphics engine and 11 hours of battery life.

LOVEFiLM is deeply integrated with the all-new Kindle Fire HD and Kindle Fire and allows users to instantly stream and interact with thousands of movies and TV shows using Kindle's sophisticated features to enhance the viewing experience including:

WATCH LIST
Users can plan their viewing experiences by creating an unlimited playlist of movies and TV shows which can be accessed on demand at the users' convenience.

WHISPERSYNC TECHNOLOGY
Powers the LOVEFiLM Pause and Resume function that keeps track of the last location in a video so viewing can be resumed from exactly the same spot on any LOVEFiLM device. This means film fans can, for example, start watching something on their Kindle Fire HD, pause the movie or TV show, and return to it on the PS3, without having to search for their place.

X-RAY FOR MOVIES
"X-Ray for Movies", is a new feature that revolutionizes the movie experience by bringing the power of IMDb directly to movies on Kindle Fire and Kindle Fire HD, accessible with a simple tap.

Without ever leaving the movie, customers can look up any actor in the scene or movie, see what other movies they have been in and view photos, biographies and more. X-Ray for Movies is exclusive to the Amazon ecosystem.

IMDb, an Amazon company for 14 years, is the #1 movie website in the world with more than 160 million monthly unique visitors worldwide.

Both the all-new Kindle Fire HD and Kindle Fire will come with a month's free subscription for new LOVEFiLM users in the UK. These users will be able to login to LOVEFiLM quickly and easily using their Amazon account details. In the near future, existing LOVEFiLM members will also be able to link their accounts together, creating a simpler single login experience.

Jim Buckle, Managing Director at LOVEFiLM, said:
"Every Kindle Fire HD and Kindle Fire in the UK comes with seamless integration of LOVEFiLM giving users access to thousands of movies and TV shows. This is a huge moment for LOVEFiLM and continues to expand our multi-platform offering – delivering the very best content onto the most popular devices, which can only be great news for film and TV fans."

Jorrit Van der Meulen, VP Kindle, Amazon EU added:
"The minute customers turn on their Kindle Fire HD they will have instant access to our vast content ecosystem of apps, games, songs, books and magazines, plus thousands of fantastic movies and TV shows from LOVEFiLM. When combined with our unmatched cross-platform interoperability and standard-setting customer service, we're sure UK customers will love Kindle Fire HD and Kindle Fire."

The all-new Kindle Fire HD is only £159 and is available now at http://www.amazon.co.uk/kindlefirehd.

The new, latest generation Kindle Fire is only £129 and is available at www.amazon.co.uk/kindlefire.

LOVEFiLM:
http://www.lovefilm.com
http://www.facebook.com/LOVEFILM
Tweets by lovefilm

About LOVEFiLM:
LOVEFiLM is an Amazon company and is the leading European film and TV series subscription service with over 2 million members in the UK, Germany, Sweden, Denmark, and Norway
In February 2011 LOVEFiLM was acquired by Amazon EU SARL
LOVEFiLM has signed a number of film and TV content deals with major studios including Miramax, Twentieth Century Fox, NBC Universal, Sony Pictures, Warner Bros., Disney, ABC, BBC, ITV, STUDIOCANAL and eOne
LOVEFiLM members can enjoy the benefits of DVDs and Blu-rays delivered straight to their door with LOVEFiLM By Post
LOVEFiLM Instant is available on over 280 Internet-enabled devices including PCs, PlayStation®3, iPad®, Kindle Fire and Kindle Fire HD, Xbox 360, plus a growing number of Blu-Ray players and Internet-connected TVs including Sony, Samsung, LG and Cello
LOVEFiLM is available for one low monthly price – with no late fees
Members can choose from a selection of over 70,000 titles available across Blu-ray, DVDs, video games and instant streaming
LOVEFiLM offers a range of video games rental options in the UK market to support gaming across Xbox 360, Xbox, PlayStation®3, PlayStation®2, Wii and DS
LOVEFiLM members have generated over 108 million film ratings and written more than 1.1 million reviews
For additional information including a breakdown of packages visit www.lovefilm.com