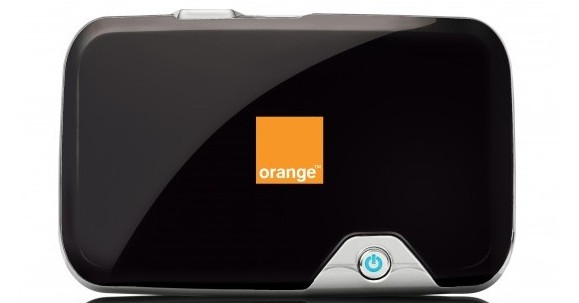 Sporting a name that manages to be less snappy than the elastic on Billy Bunter's ten year old Y Fronts, Orange has announced the Novatel Wireless 3352 Wi-Fi modem.
Five gadget support
The device lets up to five simultaneous Wi-Fi devices connect to Orange's 7.2Mb/s HSDPA network and is, apparently, "a bubble of WiFi."
"Requiring no USB connections or wires, Orange customers can now create a portable 3G Wi-Fi hotspot for all their Wi-Fi gadgets, at the touch of a button," says Orange.
Phil Roberson, Director of Devices for Everything Everywhere, the company which runs Orange in the UK added, "We're excited to be rolling out the world's first truly intelligent mobile hotspot. One of the key drivers for differentiation is the operating system and the simple access to new widgets and apps on the mobile WiFi. As a result, this new device complements our mobile broadband offering perfectly."
The MiFi gadget also comes with a  Micro SD card slot that can take cards of up to 32GB capacity which we assume will lets connected users share its contents.
Contract terms
The 3352 can be pocketed for £49, but only if you commit to a one-year, £15-a-month 'Dolphin' package which offers 1GB of 'normal' data transfers and a further gigabyte to be used in off-peak times (that's midnight to 4pm, according to Orange).
Here's a run down of the current plans: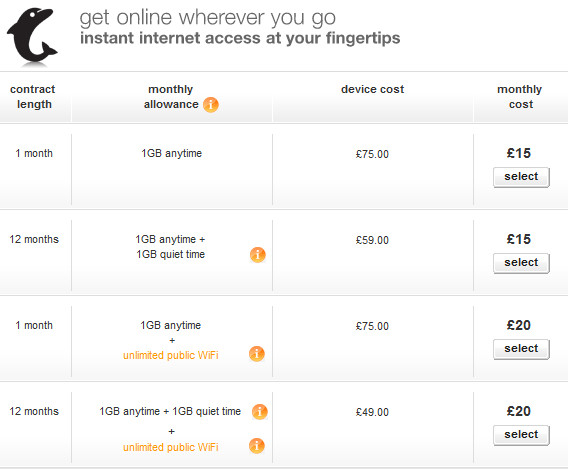 Existing Orange pay monthly, PAYG and home broadband customers will also get a fiver discount on all new mobile broadband price plans.
Specs:
Length: 9 cm
PC, Mac or any WiFi-enabled device
use at home or on the move
connect up to 5 WiFi devices
no need for a USB port or wires
small and lightweight device
ultra-light, weighing just 81 grams
5-hour battery life
Micro SD slot to store up to 32GB of data*
* Micro SD card to be purchased separately.
[Orange]
Here's the press guff:
Novatel Wireless Commercially Launches MiFi OS with
New MiFi 3352 Intelligent Mobile Hotspot
SAN DIEGO, CA, November 3, 2010 — Novatel Wireless, Inc. (Nasdaq: NVTL), a leading provider of wireless broadband access solutions, today announces its new Intelligent Mobile Hotspot — the MiFi 3352 — which comes pre-loaded with Novatel Wireless MiFi operating system (OS), widgetsand applications support.

This will enhance both the intelligence of the device and the user experience through applications capabilities across users' Wi-Fi devices of choice. The device is today launching commercially in the UK with Orange under the name Mobile WiFi.

Novatel Wireless MiFi OS complements on-the-go Internet connectivity with a number of value
added applications. The MiFi OS delivers a browser based Web user interface (UI) for quick
intuitive access to MiFi resources, widgets and on-board applications and content. The MiFi
customers will also benefit from an improved user experience giving customers freedom from
having to install and maintain software on every device that connects to the MiFi hotspot.

Rather than installing applications for each connecting Wi-Fi device (notebooks, netbooks, tablets) the applications reside on the MiFi 3352 device and no installation is necessary on the connecting devices. Easy access through the Web UI is provided regardless of device connecting to the MiFi 3352.

The award winning MiFi Intelligent Mobile Hotspot delivers download speeds up to 7.2 megabits per second with enhanced performance for simultaneous uploads/downloads and large file transfers. It supports up to five simultaneous users located within 10 meters of the device.

Compact and simple to use, the MiFi 3352 also includes a microSD slot for expandable memory of up to 32 gigabytes.

Speaking about the UK launch, Phil Roberson, Director of Devices for Everything Everywhere, the company which runs Orange in the UK said, "We're excited to be rolling out the world's first truly intelligent mobile hotspot. One of the key drivers for differentiation is the operating system and the simple access to new widgets and apps on the mobile WiFi. As a result, this new device complements our mobile broadband offering perfectly."

Orange's Mobile WiFi operates on Orange UK HSPA network and offers simultaneous Wi-Fi
connectivity for up to five devices or users. At launch, it will feature widgets such as data usage,
GeoSearch, GeoWeather and SMS capabilities.
"We're thrilled to introduce this industry first with such an innovative UK operator," said Rob
Hadley, chief marketing officer for Novatel Wireless. "Orange's Mobile WiFi with intelligence and added capabilities fits perfectly with Orange's mobile broadband portfolio and we're proud to support this launch in the UK."