Seeing as most MP3 players and smartphones come with headphones so terribly frightful that they make Noel Coward* sound like a drunken ruffian playing the spoons at closing time, we've always ended up shelling out for a decent pair (*see below).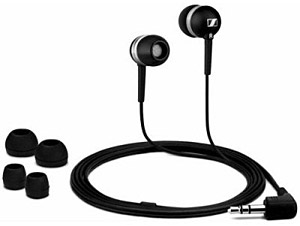 Our quest to find a sonically superior product has often been a wallet emptying pursuit, but for the last six months we've been enjoying the Sennheiser CX 300 in-ear headphones on our travels.
Although the headphones have now moved on to become the near-identical mark two version (available on Amazon for around £30 or you can save yourself a few quid and get the original CX300s in natty white for around £12), you'll be in for a bargain whichever pair you get, and make no mistake, guv'nor.
The first thing you'll notice when the package plops through your letterbox is the packaging, which we heartily approve of.
Built from what looks like a 3D cardboard puzzle, the cunning eco-packaging manages to be both aesthetically pleasing and superbly practical.
In fact, for the first time ever, the packaging drew a crowd around our desk as we folded back the layers to reveal the headphones inside. A really nice touch was the little badge that pops out at the end too.  Great stuff, Sennheiser!
Once we delicately released the earbuds from their smartypants case, we noted that the construction quality appeared better than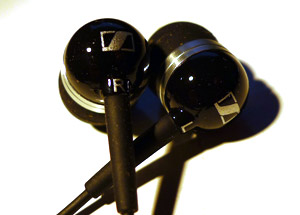 many of its rivals, with the earbuds solidly built and a good quality 1.2m flexible Y cable included.
There were also two additional sets of soft silicon ear tips to help you get a good airtight seal inside your ear canals.
We were fine with the default medium set, but it's worth experimenting to get the best fit because the bass performance relies on you getting a tight lug'ole seal.
Once you've wedged the earbuds in, you'll enjoy a reasonable amount of noise isolation which might come in handy if you have to suffer a boneshaker bus commute every day.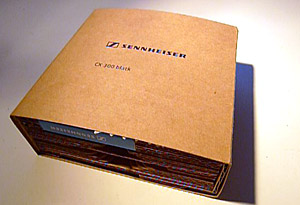 It's worth noting that some people can find the noise isolation a bit uncomfortable, especially when they're walking around.
They're clearly not a good idea for cyclists and joggers who need to be aware of what's going on around them.
Putting the Sennheiser CX 300s up against some of the pricier in-ear headphones, we were pleasantly surprised by the sonic quality.
The soundstage was clear and crisp, the voice had none of that horrible boxiness you can get with cheaper 'phones and the earbuds handled a wide range of music with aplomb. The bass handling was pretty good and the headphones were plenty powerful too.
Considering the low price and overall build quality, we think the Sennheiser CX 300's are an excellent budget choice and almost certainly a vast improvement on the earbuds that come bundled with most consumer MP3 players. Do your ears a favour and give them a go.
Review scores
Looks: 85%
Build: 82%
Sound quality: 84%
Value for money: 88%
Overall: 88%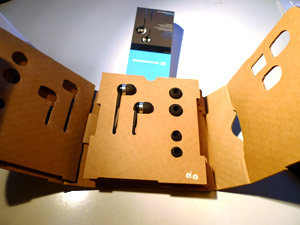 Technical Data
Frequency response – 18Hz – 21kHz
Cable length – Asymmetrical, L: 170 mm; R: 510 mm, (85 cm divider to plug)
Impedance – 16 Ohm
Sound pressure level (SPL) – 112 dB (1 kHz, 1 Vrms)
Jack plug – 3,5 mm stereo (angled) – 2.5mm version available
Ear coupling – intraaural (ear canal fit) with ear adapter set (S/M/L)
Transducer principle – dynamic, open
» Sennheiser
Let's hear it for Noel!
In case you have no idea who Noel Coward is, allow us to introduce you to his genius: