If you've got a mile-high pile of old vinyl forlornly gathering dust and remaining unheard, Roxio's  new Easy LP to MP3 software should help you shovel those lovely old warm sounds onto your your cold, clinical PC.
Roxio's Easy LP to MP3 package comes with a small pre-amp and stereo cable connections to let you pipe in that old vinyl goodness onto your hard disk,
The bundled software records directly from LPs and tapes to WAV, MP3, WMA, Audio CD or MP3 CD, with clean-up tools to remove clicks, pops, hissing and other unwanted noise from the platters that matter.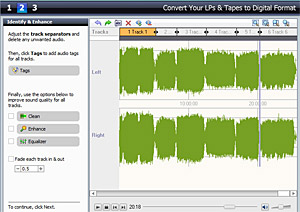 For making your vast collection of prog rock epics more iPod-friendly, continuous tracks can be split into individual files, and the software can  automatically add the name of the artist,  song title and album name by' recognising' the tunes.
Album art can be included, and there's also a CD label creator for  printing sleeves.
"Easy LP to MP3 is a great tool for anyone looking to preserve their vinyl LPs or cassettes for years to come.  Not only does it enable you to digitise the music so it can be played on a portable player or CD, but there are a number of tools included that allow you to enhance the audio by removing crackles and background noise," said Stephen Mold, EMEA Director, Roxio.
"The product has been designed to make the process as simple as possible, with a simple step by step guide provided to walk you through it. It's a quick and easy way to digitise your prized LP and tape collection to ensure it can be enjoyed on any device in years to come."
The Easy LP to MP3 package can be yours, all yours, for £39.99. Windows only.