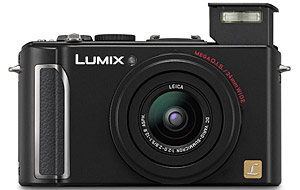 Panasonic have released an updated version of  their firmware update for the Lumix DMC-LX3 digital compact.
As we reported three weeks ago, things went a bit awry with the original v2.0 update, forcing Panasonic to remove the update from its site.
Users of our favourite digital compact can now  download the corrected version of the firmware from Panasonic's website (v2.1).
Here's their full release:
Panasonic Updates Firmware of DMC-LX3
for Further Improvement in Functions and Performance

A new firmware update is released for Panasonic's premium manual compact camera DMC-LX3. Firmware version 2.1* supports several new functions and improves various performances to elevate shooting convenience and fun. The firmware also rectifies several minor issues to enhance operation.

The adoption of new algorism makes it possible to speed up the AF time by reducing it approx.20% to 0.50 sec at wide-end.  Now the 1:1 aspect ratio recording mode is added as a shooting option in addition to the conventional 4:3, 3:2 and 16:9. The white balance bracket shot is available. The new scene mode High Dynamic is newly incorporated in the scene mode, which helps to capture a scene with moderate exposure even though the scene contains both bright and dark area together. You can select either of 3 options, Standard, Art, or B/W, depending on the desired effect and personal taste to make the photo look natural to artistic. The white balance adjustment performance is greatly improved especially under fluorescent lights, daytime sunlight and low light.

As well as those mentioned above, the new firmware incorporates attractive advancements for enthusiastic photographers. The exposure compensation range as well as its bracket setting is widened. The fixed composition guidelines are now movable to the intended position with the control of cursor or joystick for free framing. Over exposure part of the picture is shown not only in the preview but also in the playback mode. The lens position of zooming and manual focusing is memorized and resume at the position.

The photographer's name can be embedded to the EXIF information of the picture and it can be confirmed via the updated PHOTOfunSTUDIO ver.2.1.

Panasonic invites all users of DMC-LX3 to apply the updated firmware. The new firmware will be available worldwide at http://panasonic.jp/support/global/cs/dsc/, at 09:00 BST (UK time) on 21st of October, 2009.

*The ver.2.1 is the corrected version of the firmware previously released as ver.2.0.
We love the LX3 – it's been our first choice compact camera since we got uor hand son one. Read out full review here.