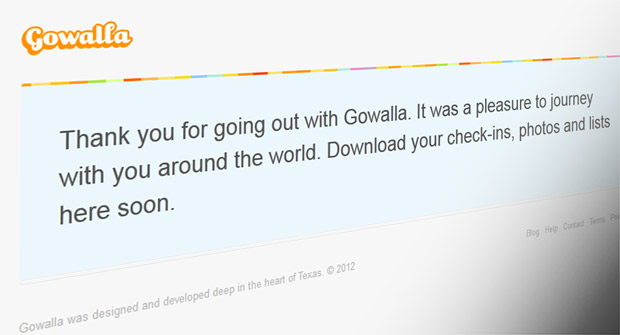 Three months after being bought up by Facebook, Gowalla has registered its final check in.
Launched in 2009, the location-sharing service for mobile devices vied for market space with the likes of Foursquare but  never really hit the mainstream, only managing to pick up  around 600,000 users a year ago.
We gave it a go but found even less use for it than we do for Foursquare, so we're not surprised to see it biting the dust.
The home page of Gowalla's site now displays a closing message, with a note saying that users will be able to download their personal data shortly:
Thank you for going out with Gowalla. It was a pleasure to journey with you around the world. Download your check-ins, photos and lists here soon.
Here's Frank to sign out Gowalla: