The whole blooming world is going crazy for smartphones, with a new study showing that the market has grown a whopping 79.7%, year over year.
Market research firm IDC reported that smartphone vendors shunted out no less than 99.6 million units in in the first quarter of 2011, with Android handsets proving the global must-have handset.
Nokia is still #1
Incredibly, Nokia still clings on to its long held claim to be the the world's biggest smartphone manufacturer, but their market share is nearly falling as fast as LibDem seats.
The Finnish smartphone sultans saw their global market share slumping to 24.3% – an almighty drop from the 38.3% market share it held last year.
It's not all bad news for Nokia though, because their smartphone shipments have actually gone up (from 21.5 to 24.2 million units) – the problem is that everyone else has been growing at a much faster rate.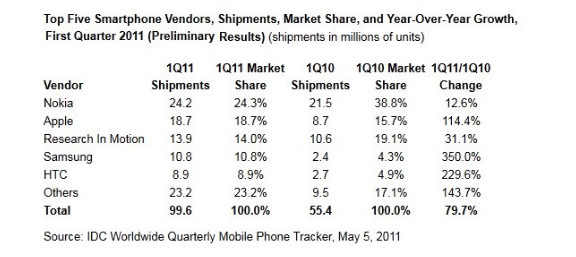 Samsung growing fast
Samsung continue their near-unstoppable rise, with their market share increasing from 4.3% to 10.8% over the year, as shipments grew from 2.4 to 10.8 million units – a massive 350% rise.
HTC also enjoyed healthy growth spurts, with its market share rising from 4.9% to 8.9%, while Apple's share also moved up to 18.7% in Q1 2011, compared to 15.7% for the same period last year.
Staying put in third place is Blackberry/Research in Motion, with the company increasing shipments from 10.6 to 13.9 million units in Q1 2011 while their market share slipped from last year's 19.1% to 14% for the first quarter of this year.
Android on the stampede
IDC recently gazed into its techie crystal ball and predicted that Android is on course to completely pwn the smartphone OS market by 2015, bagging a competition-crushing 45.4% share.
"The rise of Android as a prominent mobile operating system has allowed several suppliers to gain share quickly. Also, the relatively nascent state of smartphone adoption globally means there is ample room for several suppliers to comfortably co-exist, at least for the short term," commented Kevin Restivo, senior research analyst with IDC's Worldwide Quarterly Mobile Phone Tracker.
[Via]