The annual awards for the tech magazine T3 have been announced, with Apple scooping no less than five awards – but failing to bag the coveted 'Phone of the Year' award, which went to our favourite handset, the HTC Desire.

Apple's iPad picked up the headline-grabbing 'Innovation of the Year' and 'Gadget of the Year' awards, but Apple once again lost to the upstart HTC who scooped up the coveted 'Tech Brand of the Year.'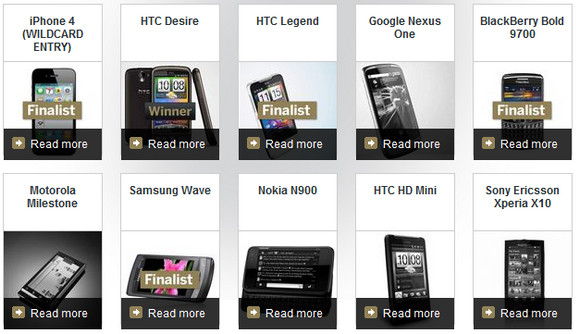 Apple's iPhone 4 won the 'Commuter gadget of the year for its iPhone 4' award – to be honest we would have thought something with a better battery life would be more deserving in that category – and the company also picked up gongs for 'Retailer of the Year' and 'Computer of the Year' for its Macbook Pro.
The astonishing Samsung 9000 series television won T3's Design Award for the year, with Panasonic's Viera TXP50 snaffling the Television of the Year title.
We're not quite sure what a 'Gadget Personality' is, but it was won by Suzi Perry.
Here's the full list of winners. Do you agree with their judges?
The winners
Innovation of the Year: Apple iPad
Gaming Gadget of the Year: Alienware M11x
App of the Year: Google Maps Navigation
Retailer of the Year: Apple Store
Commuter Gadget of the Year: Apple iPhone 4
New Media Service of the Year: Spotify
TV of the Year Panasonic: VIERA TX-P50VT20B
T3 Design Award: Samsung UE55C9000
Phone of the Year: HTC Desire
Camera of the Year: Panasonic Lumix DMC-GF1
Tech Brand of the Year: HTC
Camcorder of the Year: Sanyo Xacti VPC-CS1
Gadget of the Year: Apple iPad
Computer of the Year: Apple Macbook Pro
Green Gadget of the Year: One Click Intelliplug
Music Gadget of the Year: Cambridge Audio DacMagic
Work Gadget of the Year: Three Mobile MiFi
Home Gadget of the Year: Samsung NaviBot SR8845E
Gadget Personality of the Year: Suzi Perry
[Via]