We've all seen those clever 3D paintings sketched out by street artists, but this incredible creation on London's Canary Wharf quayside can claim to be the biggest – and quite possibly the best.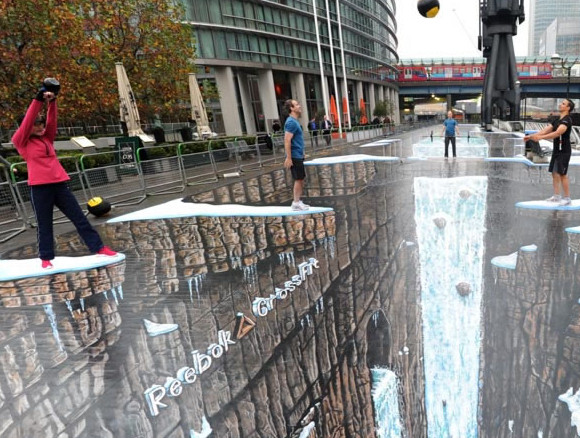 The result of a collaboration between famed street artists 3D Joe & Max and cool-seeking corporate brands Reebok and CrossFit, the world beating artwork measures up at 1,160.4 meters square, with the 106.5m long painting revealing a massive waterfall cascading into a deep canyon.
A stone 'bridge' lets people walk over the canyon, while snow capped outcrops offer plenty of branding opportunities for the sponsors.
Here's the OR guff that accompanied the 'making of' video below:
Reebok and CrossFit continue their mission to empower people around the world to be fit for life by attempting to break two World Records — the Largest 3D Painting and the Longest 3D Painting — on the global Guinness World Records Day. To achieve this, Reebok CrossFit has teamed up with London-based street artists '3D Joe and Max' to create a spectacular, jaw-dropping outdoor workout experience.
[Via]