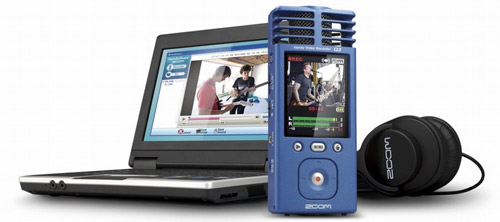 With its ability to record video and HD audio, Zoom's Q3 Handy Video recorder looks a great tool for video bloggers, YouTubers, musicians and journalists.
Available now in the UK, the Q3 has a tempting set of specs, with the beef- looking device able to record high quality audio at  24-bit/48 kHz audio via a pair of condenser microphones, and grab video at 640 x 480 (30fps).
"While it can be difficult to discern the difference between High Quality and High Definition videos on sites like YouTube, High Definition audio makes a big difference in the viewing experience," says Mark Wilder, Samson Director of Marketing. The Q3 Handy Video Recorder allows you to capture audio that your audience can easily identify as superior quality and is unmatched by audio captured on any other handheld camcorder."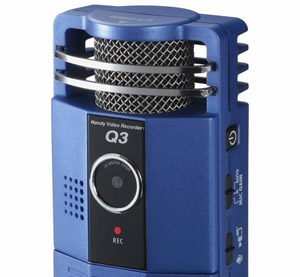 The Q3 sports a 2.4-inch 320 x 240 resolution LCD displaying audio level meters, battery level and time elapsed, with a SDHC slot offering up to 32 GB of storage, delivering up to 16 hours of movie making capacity.
For swiftly sharing your video creations, there's a nimble, flexible USB cable that pulls out of the side of the recorder, with Zoom promising up to two hours video/stereo audio recording time from the   2 xAA batteries battery source.
Full specs:

VIDEO RECORDER FEATURES
Portable video and stereo audio recorder.
Built-in stereo condenser microphones with X/Y configuration for true stereo imaging.
Record up to 1 hour of video with included 2GB SD card.
Accepts up to a 32GB SDHC card for 16 hours of recording time.
Large 2.4-inch LCD display with a resolution of 320 x 240.
Video resolution of 640 x 480 at 30 frames/sec.
Video Format: MPEG-4 SP.
American NTSC or Europeand PAL TV output.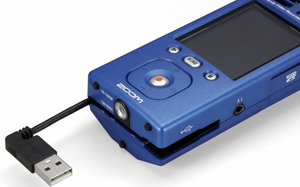 Optics Lens Type: Fixed Focus 0.8m to infinity.
Audio formats with video include 44.1/48kHz 16/24-bit Linear PCM WAV or MP3 up to 320kbps.
Audio only formats include 96kHz 16/24-bit Linear PCM WAV.
Auto Record Level automatically adjusts audio levels during recordings.
Powered by two standard AA batteries or NiMH rechargeable batteries.
USB 2.0 with built-in cable.
Windows and Mac OS compatible.
Built-in speaker and tripod mount.
Includes onboard editing software, YouTube uploader software, Apple Quicktime, TV cable, softcase, windscreen, 2GB SD card, two AA Batteries.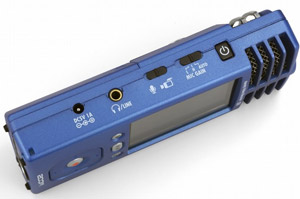 VIDEO AND AUDIO RECORDER SPECIFICATIONS
Recording Media: SD memory card 16MB-2GB, SDHC memory card 4GB-32GB.
Image Sensor: VGA CMOS sensor.
Focal Length: 0.8m to infinity.
Video Compression: MPEG4-SP.
Video Resolution: 640 ' 480 pixels VGA.
Video Format: MOV.
Frame Rate: 30 frames/sec.
Audio Format: PCM Quantization : 16/24bit, Sampling Frequency : 44.1/48/96kHz.
MP3 Bit Rate : 48/56/64/80/96/112/128/160/192/224/256/320kbps.
Functions: Lo-cut filter, Auto REC level, 2x digital zoom.
LCD Screen: 2.4-inch QVGA.
Built-in Mic: 120-degree X/Y stereo.
Built-in Speaker: Monaural, 400mW 8 ohms.
Phones / Line Output: 1/8″ Stereo phone jack.
TV Out: NTSC/PAL compatible, Stereo audio.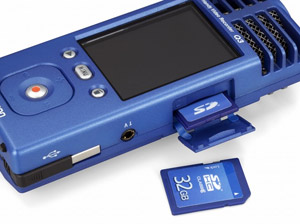 USB : USB2.0 High speed compatible, Mass storage class operation.
Power Requirements: 2 x AA battery Alkaline / Ni-MH, AC adaptor DC5V/1A/center positive.
Battery Life: 2 hours Movie mode, 4 hours Audio mode.
Dimensions: 55(W) x 132.5(D) x 32(H)mm.
Weight: 130g without batteries.
MINIMUM SYSTEM REQUIREMENTS
Windows Intel Pentium4 2.0GHz or faster Windows XP SP2 or later : 512MB RAM or more, Windows Vista : 2GB RAM or more.
NetBook Atom 1.33GHz or faster
1GB RAM or more, Windows XP SP2 or later / Vista XP recommended.
Macintosh PowerPC G4 1.2GHz or faster, Intel Core Duo 1.6GHz or faster,512MB RAM or more
OS X 10.4.11 / OS X 10.5.6 or later.
USB1.1/2.0 compatible port.
800 x 600 monitor resolution or more.