It seems like an age since it was announced, but Microsoft's shiny new Zune HD player has finally been released in the US.
Coming in 16GB and 32GB flavours, the Zune HD packs a 3.3 inch OLED touchscreen (480 pixels x 272 pixels), Wi-Fi and FM radio tuner, 3.5mm headphone jack and is priced at $219.99 (£133) and $289.99 (£176) respectively – making it cheaper than the Apple iPod Touch.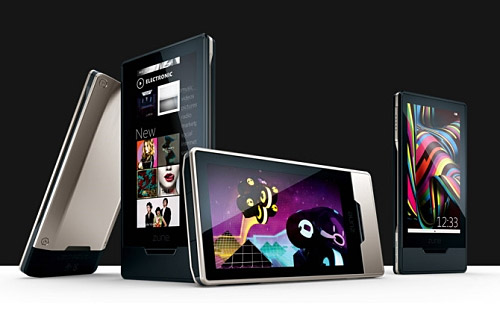 Users will be able to rent or buy high definition films from the new Zune Marketplace online store, as well as access a streaming music service through the onboard browser.
It's certainly very easy on the eye – we love its looks – but we're not sure if it'll tempt iPod fans into Microsoft's ample bosom.
Either way, with no release date set for the UK, we'll have to adjust our excitement-o-meters to 'moderately interested.'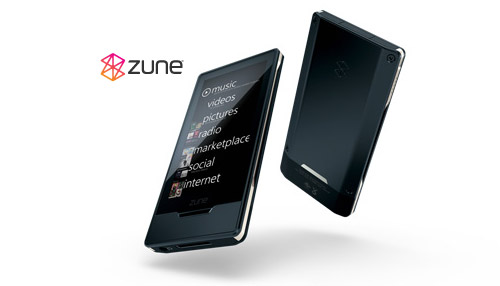 Specifications
Here's the full specs for your delectation.
Capacity
16/32 gigabytes (GB)
Up to 8,000 songs, or ten hours of high definition video from Zune Marketplace, or 48 hours of video optimized for device, or 25,000 pictures
Size and weight
Size: 52.7 mm x 102.1 mm x 8.9 mm (w x h x d)
Weight: 2.6 ounces (74 grams)
Battery
Music, up to 33 hours (wireless off); video, up to 8.5 hours
Charge Time: Approximately three hours when connected to your PC; approximately two hours with A/C adapter
Screen
Size: 3.3-inch OLED color display, 16:9 aspect ratio
Type: Scratch-resistant glass with touch input capability
Orientation: Vertical (music) and horizontal (videos)
Resolution: 480 pixels x 272 pixels
Wireless
Connectivity: 802.11b/g compatible
Wireless sync
Yes
Connectivity: 802.11b/g compatible
Authentication modes: Open, WEP, WPA, and WPA2
Encryption modes: WEP 64- and 128-bit, TKIP, and AES
Audio support
Windows Media Audio Standard3 (WMA) (.wma); Up to 384 Kbps; constant bit rate (CBR) and variable bit rate (VBR) up to 48-kHz sample rate; WMA Pro two channel up to 768 Kbps; CBR and VBR up to 48-kHz
WMA Lossless: two channel up to 768 kbps and 48-kHz
Advanced Audio Coding (AAC-LC) (.mp4, .m4a, .m4b); .m4a and .m4b files without FairPlay DRM up to 320 Kbps; CBR and VBR up to 48-kHz
MP3 (.mp3); Up to 320 Kbps; CBR and VBR up to 48-kHz
Picture support
JPEG (.jpg)
Video support
Windows Media Video (WMV) (.wmv); Main and Simple Profile, CBR or VBR, up to 10.0 Mbps peak video bit rate; 720 pixels x 480 pixels up to 30 frames per second (or 720 pixels x 576 pixels up to 25 frames per second); Advanced profile up to L2, 1280 pixels x 720 pixels up to 30 frames per second, CBR or VBR, up to 14.0 Mbps peak video bitrate;Zune software will transcode HD WMV files above stated capabilities at device sync
MPEG-4 (MP4/M4V) (.mp4) Part 2 video; Simple Profile up to 4.0 Mbps peak video bit rate; 720 pixels x 480 pixels up to 30 frames per second (or 720 pixels x 576 pixels up to 25 frames per second); Zune software will transcode HD MPEG-4 files at device sync
H.264 video3; Baseline Profile + bframes, up to 10 Mbps peak video bit rate; 720 pixels x 480 pixels up to 30 frames per second (or 720 pixels x 576 pixels up to 25 frames per second);1280 pixels x 720 pixels up to 30 frames per second, up to level 3.1 and 14.0 Mbps peak video bitrate; Zune software will transcode HD WMV files above the stated capabilities at device sync
DVR-MS4; Zune software will transcode at time of sync
Audio output
Analogue Audio Out; Optical Digital Audio Out (requires additional dock, sold separately)
Video output
HDMI or Composite (requires additional dock, sold separately)
Radio
Built-in FM/HD Radio receiver
Included accessories
Headphones
Zune Sync Cable
Three pairs of foam earpiece covers
Ports
Connector port
3.5mm Headphone jack
Official Zune site