The BBC has teamed up with the bods at Facebook, Bebo and Twitter to add social networking options in the next update to their excellent iPlayer, which allows viewers to watch BBC programmes online after they have been broadcast.
Speaking to the Daily Telegraph, Erik Huggers, the corporation's director of Future Media and Technology, said that they were close to launching the third version of the iPlayer in beta which would let users, "bring their Facebook friends onto the iPlayer so they can share what they are listening to or watching with each other more easily."
Speaking publicly at The Guardian's 'Changing Media Summit 2010', Mr Huggers (we wonder what his nickname was at school?  Hugsy? Hugso? Huggers goes pop?), said that the partnerships with the big-boy social networks had been in place for "some time" but this was the first time it had been publicly revealed.
Coloured puffs
To integrate their Twitter, Facebook and Bebo accounts on the BBC site, users will first have to bag themselves a BBC user name and password, and then input their social networking logins.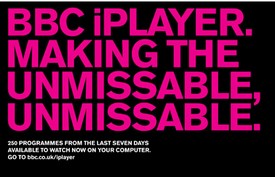 Once connected to the iPlayer, users will automatically be hooked up to their social  networking sites and be able to check out what their friends or followers are sharing or watching in "coloured puffs" (ooo-er) displayed beneath the player.
Hugsy added that other types of social networking integration was planned across the site, but was unable to comment further.
New look BBC site
There's also a redesign of the BBC website in the works, featuring a new, next-generation embeddable video player across the site (similar to the iPlayer), with top notch print designer Neville Brody at the helm. He's rather good, you know.
[Via]