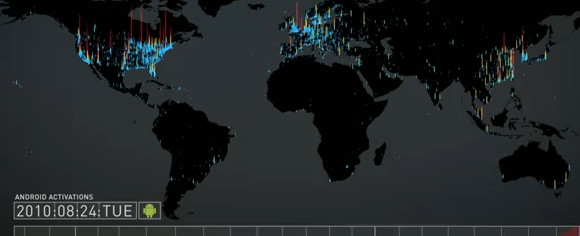 As the all-conquering Android OS strides on to total world domination, a new video has been created showing the timeline of device activations across the world from Oct 2008 to Jan 2011.
Slow to start…
The first 30 seconds are a bit dull because, well, barely anything happens before Android explodes on to a previously iPhone-infatuated public, but after that it's fascinating to see the speed in which Google OS's spreads across the globe.
On the global map, you can see the USA as the first country to light up in a blaze of Android love – with the east coast being keen early adopters – swiftly followed by Europe and the Asian markets.
The animation also offers continent by continent  mapping, so you can see the explosions of colour as big name handsets are released.
Android inthe UK
As for us, we were right in there at the start in the UK with a G1 handset which replaced our much loved Treo 650/Centro combo.
To be honest, the G1 wasn't the greatest handset we've ever owned, but it was a leap up from Palm's hideously ageing OS, and after an amble into the world of webOS and six months with an iPhone 3GS, we're still feeling much love for our HTC Desire.