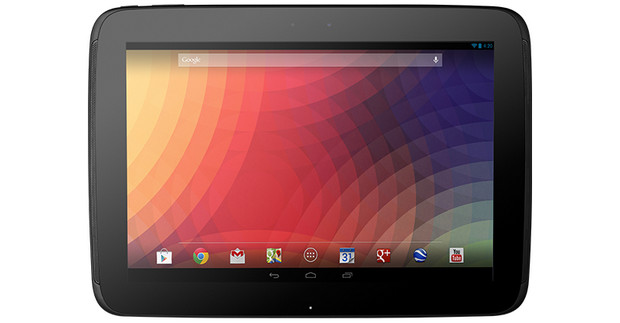 Billed as the "ultimate tablet for watching movies or reading magazines," the new Nexus 10″ tablet sees Google taking the battle to Apple, with a device that is substantially cheaper than an iPad.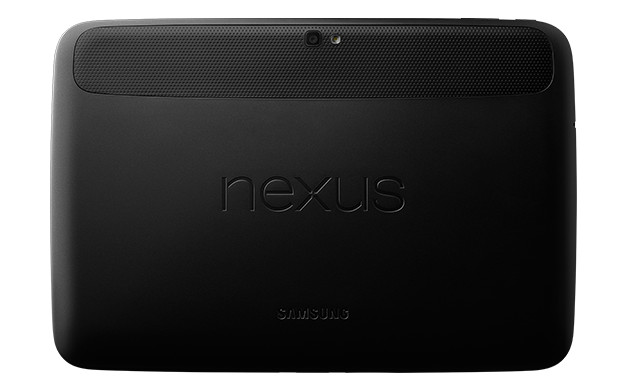 The headline feature on the tablet – built by Samsung – is the astonishing screen which at 2560-by-1600 (300ppi) and containing over 4 million pixels is the highest resolution screen to be found on any tablet.
The tablet features a front-facing set of stereo speakers, and runs Android 4.2 which adds new features like multiple user profiles, giving quick and easy access to each user's email, apps, bookmarks, and even game high scores.
Google say that the 9,000mAh battery should be good for nine hours of video playback and more than 500 hours of standby time.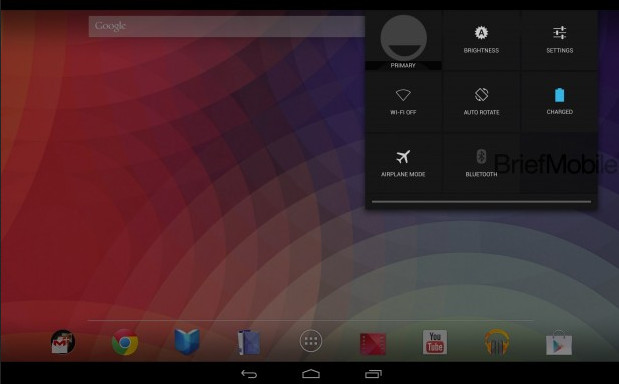 Powered by Samsung's 1.7 GHz dual-core A15 processor, the Nexus 10 also comes with advanced MIMO WiFi, which can provide web browsing speeds up to 4x faster than normal WiFi.
Connectivity options include WiFi 802.11 b/g/n (MIMO+HT40), Bluetooth and NFC (Android Beam) and there's two cameras onboard: a 5 MP main camera and a 1.9 MP front-facing camera for video calls.
There's also microUSB and microHDMI ports, plus Wi-Fi, but no news on whether a 3G or LTE version will be made available.
As well as being around $100 cheaper than an iPad and having a higher resolution screen, the Nexus 10 is also lighter than the iPad, at only 1.33 pounds (604 grams) compared to the iPad's 1.44 pounds (652 grams).
In the US, the Nexus 10 will retail for $399 for the 16GB model and  $499 for the 32GB version (both Wi-Fi only), with availability from the 13th November.
The U.K. prices are £319 for the 16GB model and  £389  for the 32GB version, which is certainly competitive against the iPad which is £399 for the 16GB model and £479 for the 32GB version. The nexus 10 also has a better screen and is lighter – but there's no denying it doesn't look as good as Apple's slick offering.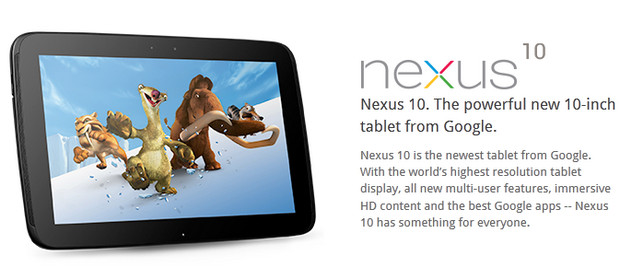 Specs:
Screen
10.055″ diagonal at 2560 x 1600 pixel resolution for 300 ppi
WQXGA
Corning(R) Gorilla(R) Glass 2
CPU/GPU
CPU: Dual-core A15
GPU: Mali T604
Size – 263.9 x 177.6 x 8.9 mm
Cameras
5 MP (main)
1.9 MP (front)
Wireless
WiFi 802.11 b/g/n (MIMO+HT40)
Bluetooth
NFC (Android Beam)
Memory
16 GB internal storage (actual formatted capacity will be less)
2 GB RAM
Connectivity
Micro USB
Magnetic Pogo pin charger
Micro HDMI
3.5mm headphone jack
Battery
9000 mAh Lithium polymer
OS
Android 4.2 (Jelly Bean)
Sensors
Microphone
Accelerometer
Compass
Ambient light
Gyroscope
Barometer
GPS