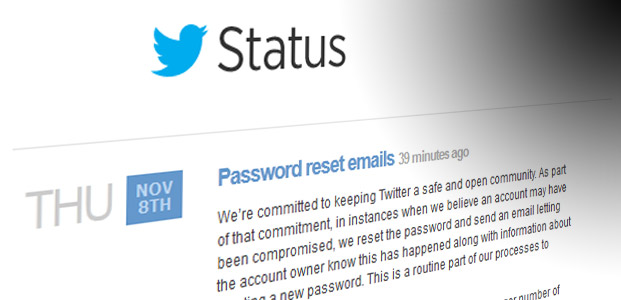 We awoke today to get a worrying message from  Twitter saying that we had to reset our password as our account had been "compromised."
It seems we weren't alone either, with Twitter streams filling up with people saying that they'd received the same message.
So has Twitter been at the receiving end of a particularly massive hacking attempt? Or was it a screw up at their end?
Although it seems that some accounts definitely were hacked, it's beginning to look like they got a bit carried away with the resetting, as their following statement states:
We're committed to keeping Twitter a safe and open community. As part of that commitment, in instances when we believe an account may have been compromised, we reset the password and send an email letting the account owner know this has happened along with information about creating a new password. This is a routine part of our processes to protect our users.

In this case, we unintentionally reset passwords of a larger number of accounts, beyond those that we believed to have been compromised. We apologize for any inconvenience or confusion this may have caused.

As always, we recommend that people review these tips on how to keep their Twitter accounts secure:
https://support.twitter.com/articles/76036-keeping-your-account-secure#
Check out their status blog for more details.