When it comes to playing back audio on laptops, the sound quality is – at best –  pretty shonky, but MSI is hoping to hook in audiophiles with its beefy new GX660 laptop which promises a veritable orgy of aural pleasure.
High end gear
Stuffed full of high end components, the MSI packs an Intel Core i7-720QM processor (overclocking available), a hefty 8GB of DDR3 1333MHz RAM and 1GB GDDR5 ATI Mobility Radeon HD 5870 graphics backed by two 500GB hard-drives to park a vast stash of media and games.
Aimed at "serious gamers who demand extreme audio performance," MSI hooked up with sound specialist supremos Dynaudio to conjure up a mix of built in speakers, optimal sound card and Surround Sensation Ultra PC technology from DTS to deliver "the finest audio experience".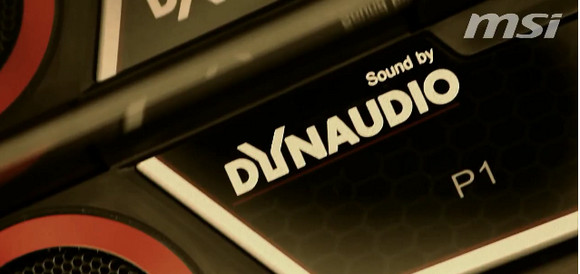 HD screen and Blu Ray
There's no point having a gourmet sound system onboard if the screen is a squinty wee thing, so MSI have strapped on a generous 15.6-inch, 1920 x 1080, full HD TFT screen, with a built in Blu Ray optical drive and HDMI output for hooking up your home flatscreen for an extra-super fantabulous experience.
There's also two USB 3.0 ports and an eSata port for super-snappy file shifting, plus two USB 2.0 ports, 802.11b/g/n(draft) Wi-Fi, an ExpressCard slot and a 4-in-1 card reader.
Measuring up at 396 x 269 x 55mm and weighing 3.5kg, the shiny black beast is available to pre-order now and can soon be yours for  around £1,700.
Press release and full specs

Here's the full press guff:
New Level of Sound and Performance
MSI + Dynaudio = New Standard of Gaming Notebook

Dynaudio Premium Sound Technology

The complex and interconnected elements that comprise excellent sound were painstakingly identified one by one to ascertain how to systematically develop the proper notebook technologies. After undergoing a very long process of cooperative development, Dynaudio and MSI have come up with the GX660R. The four directions used to develop Dynaudio Premium Sound Technology are summarized below. For serious gamers who demand extreme audio performance, the GX660R is the best and only choice!

Speaker Placement

In the past, limited space on notebooks meant speaker position was always considered last, which resulted in muddled sound in notebook speakers. Because of this, speaker position was considered during the initial stages of the GX660R's development to facilitate optimum audio performance and to avoid sacrificing audio quality for incorrect speaker placement.

EQ Tuning- Adjusted for Optimization of All Types of Sounds

Different types of music represent distinct requirements for sound ambience. Jazz, pop, rock, or classical all possess special characteristics that affect computer game and movie sound performance and each has specific tone balance requirements. To express different types of music authentically, Dynaudio and MSI spent over 1,200 hours of continuous, repetitive testing and fine tuning of high, mid, and low range frequencies so authentic reproduction of different types of music can be achieved.

Sound Card Circuit Design Optimization

Speakers and their placement are not the only things that affect sound performance; the audio processing center of a notebook, the sound card, also plays a decisive role. Only sound that goes through high quality sound card processing, and speaker transmission free from tonal corruption can guarantee original sound reproduction.

Dynaudio and MSI understand the profound importance of sound card quality, so the GX660R's sound card was specially augmented by strengthening its sound card circuit design to achieve an optimal configuration that allows for even cleaner and more penetrating sound. Whether playing DVDs, CDs, or Blu-ray DVDs, the GX660R is capable of easily reproducing original sound and conveying every authentic acoustic detail!

When listening to a symphony orchestra, you'll be able to truly sense the relative position of each instrument and the size and power of each instrument's sound, as if an orchestra were playing right in front of you!

The Best and Only Choice

MSI exclusive Turbo Drive Engine+ (TDE+) Technology for superior CPU and graphics performance

MSI Turbo Drive Engine+ (TDE+) Technology can increase CPU and graphics frequency. The TDE+ technology brings more calculating speed to enhance the system performance. It benefits the video decoding/encoding, 3D gaming and art work designing. With MSI TDE+ Technology, you can experience faster response time and efficient real-time data processing.

*The test result differs under different testing environment

Exclusive Cooler Boost Technology

Only one finger!! Exclusive Cooler Boost technology provides powerful cooling capabilities and receives real-time notification of the GT660's core temperature variations and fan speed.

Exclusive DDR3 SO-DIMM x 3 slot Design Easily Doubles Performance

Provides you with the most economical means to upgrade memory capacity (12GB max), so you never again have memory issues affecting your gaming experience.

Smart Power Management System

GX660R incorporates MSI's exclusive ECO Engine power management system, allowing you to select your usage scenario. There are a total of five usage scenarios—gaming, movie viewing, presentations, text processing, and Turbo Battery—each with fine-tuned presets for screen brightness and display sleep, system auto-sleep configuration, and processor performance. ECO Engine provides greater flexibility for battery usage, extending battery life and giving the GX660R an extra edge in mobility and productivity, while offering you added convenience.

* Actual battery life will vary depending on usage patterns and configuration settings.

A Paradigm of Cutting-Edge Performance
Style Perfected

Elegant, Flowing Lines Symbolize Excellence

Continuing the unique design elements of MSI's G-Series notebooks, the illuminating MSI logo, which symbolizes the GX660R's uniqueness, expands outward. With clean flowing lines and a beautiful black finish as a base, the fiery red lines act as visual ornamentation symbolizing a sensation of extreme speed, giving the G-Series a sense of flawless perfection. Thanks to the MSI exclusive Color Film Print Technology, the GX660R is not only strikingly beautiful, but is also more comfortable to the touch. With a glossy, high-end texture that is scratch and water resistant, it also serves as the notebook's ultimate protective layer.

Multi-Layered Aesthetics in Motion

The area around the keyboard is adorned with a checkered totem pattern, while the touch pad area also has a metal line design, giving the GX660R a layered appearance that gives off a distinctly out of the ordinary, high-end vibe. These characteristics help transform the GX660R into a stylishly contemporary and dynamic pro gaming machine that offers gamers an all-new aesthetic experience.

Less Than 27mm at its Thinnest Point

Compared to other brands on the market, the GX660R's thinnest point doesn't surpass 27mm, adding to the GX660R's sprightly and portable feel.

Exclusive LED Performance Illumination Technology

This exclusive, dazzling LED performance illumination technology increases the sensation of instant immersion when listening to music, watching video, or while wrapped up in the gaming world, thanks to changes in the GX660R's cool LED lights.

Audio Synchronize Mode

When listening to music, watching a video or when knee-deep in the exciting world of gaming, simply press the MSI LED light performance control hotkey and the GX660R enters Audio Synchronize Mode. Then, the GX660R's LED lights on both sides of the notebook and at the front of the keyboard will light up all at once. The light performance will follow different changes in sound, allowing you to unconsciously follow the rhythm of the dynamic lighting and envelop yourself in an atmosphere of sound and light that will leave you breathless!

Intelligent Simulation of Sound Source

The exclusive LED performance illumination mode can also intelligently simulate sound. When the left-side speaker emits sound, the LEDs on the left side will independently illuminate, and the same on the right side. For example, when an image of a bullet passes from left to right, the noise of the bullet will also pass from left to right through the speakers, and the LED lights then light up in conjunction with the direction of the sound moving from left to right, giving images and sound a three dimensional effect and making you feel as if you are in the midst of authentic and dynamic reverberations!

The Lifelike GT660 Breathes!

When in sleep or standby modes, you can select "breathe" (a pulsating LED light frequency) control function to give the GT660 different ways to express inactive modes. Just like an actual person resting, the GT660 is lifelike.

Be Your Own Light Expert!

You can control on/off commands with the LED performance illumination hotkey, and also open the selection manual to choose detailed light performance modes, allowing you to personalize your GX660R!

Enjoy Entertainment in Multiple Extremes

Latest & fastest Data Transfer Technology USB 3.0

USB 3.0 can reach transfer rates of 4.8GB per second, 10 times the bandwidth of the current USB 2.0. A 27GB HD file (about as large as a 4 hour HD video) can be transferred within 70 seconds, so HD video and 3D game playback speeds are even faster. USB 3.0 is also capable of executing read/write data operations, while USB 2.0 can only execute unidirectional document transfers in the same amount of time.

High-Definition Multimedia Interface

The GX660R's HDMI output not only delivers super-fast 5GB per second data rates, but it also reduces cable clutter, while ensuring the best possible video quality. By taking advantage of HDMI, the GX660R can render game scenes with spectacular clarity and realism, making it a great choice for the next generation of both PC and online games.

Convenient Wireless Networking

With its 802.11b/g/n(draft) wireless LAN and Bluetooth networking interfaces, the GX600 provides a versatile way to connect to, browse, and retrieve data on both your own devices and the online universe.

Built-in HD Webcam

Genuine 720p high-definition (HD) video quality to 30fps (30 continuous images per second allowing smooth, natural progression without jerkiness; ordinary webcams only offer 8fps). This guarantees truly clear and smooth video and picture quality and exceptional audio effects. In addition, the 16:9 HD wide-screen video display can be used with all kinds of social networking media, allowing optimum high-quality video communication and production of HD videos for the enjoyment of friends and family.

Main Specifications

Intel® Core™ i7 Processor-720QM 2.8GHz
8GB DDR3 Memory
1TB Hard Drive
16″ 1920×1080 Full HD LCD Display
Blu ray Drive
1 Year International Warranty
Full Specifications

Series – Gaming
CPU – Intel® Core™ i7 Processor-720QM 2.8GHz
OS – Genuine Windows® 7 Home Premium
Chipset – Intel® PM55
Memory – 8GB (4GB+2GB+2GB) DDR3 1066/1333MHz, 3 slots, Max: 12GB
LCD Size – 16″ 1920×1080 Full HD
Graphics – ATI Radeon™ HD 5870
Graphics VRAM – GDDR3 1GB
HDD (GB) – 2.5″ 1TB SATA
Optical Drive – Blu-Ray
Audio – 4.1 Dynaudio Speakers with Subwoofer
Webcam – HD Webcam
Card Reader – XD/SD/MMC/MS
LAN – 10/100/1000
Wireless LAN – 802.11b/g/n
Bluetooth – Yes
D-Sub (VGA) – 1
HDMI – 1
USB 2.0 port – 2
USB 3.0 port – 2
eSATA – 1
Mic-in/Headphone-out – 1
Express Card – 1
Modem port – N/A
Line-in – 1
Keyboard – 103 keys
AC Adapter – 150W
Battery – 9 cells
Dimension – 374 (L) x 246 (W) x 26.8-35 (H) mm
Weight (KG) – 3.5