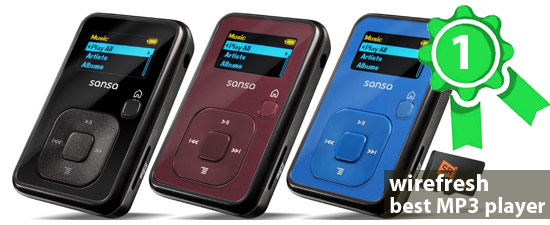 SanDisk scored a huge hit with their Clip range of budget MP3 players, and their updated Clip+ wisely doesn't fiddle with the winning formula and continues to offer a compelling alternative to the more-expensive iPod Shuffle.
Available in three capacities, the new Sansa Clip+ adds a microSD slot to the available built-in memory (2GB – 8GB), letting users cheaply increase the capacity by up to a 16GB.
The Clip+ comes with an FM radio onboard offering autoscan and a healthy 40 easy-to-program presets, with the ability to record any station you're tuned in to. There's also a handy built-in mic for voice recordings.
Audio support is pretty good, with a wide variety of audio file types catered for, including MP3, WMA, WAV, FLAC, Ogg Vorbis, and Audible files (bit no AAC).
SlotRadio cards can also be used – these are 1,000 song 'instant collections' packed on to themed microSD cards ('rock,' 'country,' '80s' etc), but as far as we can see, they're not available in the UK, and the quality is reported as being pretty ropey.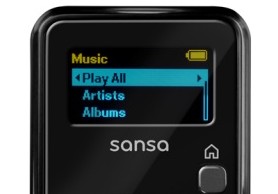 Size and interface
It's not quite as small as the Shuffle but it's still a wee beastie, weighing just 0.9 ounces and measuring a mere 2.16 by 1.36 by 0.61 inches (HWD), with a handy shirt-clip on its rear panel.
It may be small, but Sansa have still managed to squeeze in a bright 1-inch OLED screen with some old-school pixelated animated graphics and customisable EQ settings.
The onscreen interface is about as basic as you can get (if you're looking for photo viewing and video support, jog on), but it is pretty simple to use and works well with the physical buttons.
Battery life and extras
A painfully short 5-inch USB cable is bundled with the  Clip+ for syncing with your PC, along with a pair of earbuds that aren't that bad at all, considering the price.
Battery life is claimed at 15 hours of audio playback on a single charge, but we got something closer to ten hours: not great, but reasonable for such a small player.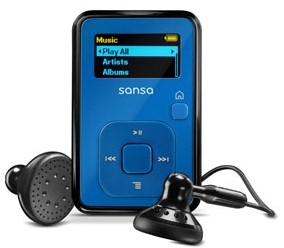 Sound quality and conclusion
We were pleasantly surprised by the sound quality of the Clip+ with the bundled headphones being perfectly adequate for everyday listening.
To get the best out of the device, we'd always recommend investing in a high quality pair of replacement 'buds like the Sennheiser CX300s.
Plugging in the (admittedly over the top) Grado SR60s brought a fuller, richer sound, albeit a little short on bass and volume, with the headphones comically dwarfing the diminutive player.
With prices starting  as low as £33 for the 2GB version and microSD cards being as cheap as chips, it's easy to get a lot of storage for your buck, making the Sansa something of a bargain.
It sounds great, looks tough enough to take a few knocks, and throw in useful extras like a screen, microSD slot, FM radio and recording capabilities, and you've got the best value MP3 under £50, and one that earns a Wirefresh 'Best Of' award.
Ratings:

– Sound quality


– Build


– Features


– Value for money


– Overall
Buy it now on Amazon:
Sandisk 2gb Sansa Clip+ MP3 Player black

SANDISK Sansa Clip+ 4 GB MP3 Player – black MP3 with flash memory MP3 player
Product Features
* Supports MP3, WMA, secure WMA, Audible, Ogg Vorbis, FLAC, plus audio books and podcasts
* Expandable microSD and microSDHC memory card slot grows with your music library and easily loads slotRadio or slotMusic cards
* Digital FM tuner with 40 presets for listening to sports, your favorite music station or tuning in at the gym
* Long-life, rechargeable battery with up to 15 hours of continuous playback
* 2gb pocket mp3 player
* Expandable microSD or microSDHC memory card slot
* Ready for slotRadio and slotMusic cards
* Built-in clip for easy carrying
* Digital FM tuner
* Built in voice recorder
*Rechargeable battery lasts up to 15 hours
*Hi-speed USB 2.0 port for fast and easy transfer of files
*Solid State Memory For Skip Free Playback
*Available in 2GB, 4GB, and 8GB* capacities