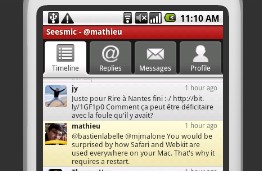 An excitable bloke can be seen raving about the Seesmic Twitter mobile client which has just been released for the Android and BlackBerry platforms.
The interface seems straightforward enough, with four buttons giving access to Twitter timelines, replies, direct messages or profile views.
Clicking on a tweet lets you to reply, DM reply or retweet, and there's the option to add location information when you post up your latest 140 character missive, along with a photo or video, if you so desire.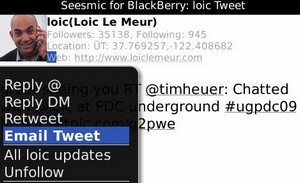 You can  nosey about in the profiles of other Twitter users and see their  tweets, favourites, followers and who they're following, and reply, direct message, unfollow or block them.
There's no support for Lists yet – something that was recently added to the  popular Seesmic Desktop.
The apps are free so Android users are invited to shuffle off to the Android Market and BlackBerry fans can point their handsets at Seesmic.
Check out the video and hear about how the fella is 'soooper-proud' about the new apps and how they're going to be, "everywhere!" C'est bon!